20 Questions with Eric Singer, 7/17/07
20 QUESTIONS WITH...
KISS drummer ERIC SINGER!
Welcome to the latest installment of Metal Sludge's 20 Questions! Even though we aren't able to do these as often as used to, we still like to bring them to you when we can. Today's interview should be a good one because our victim is none other than Eric Singer of Kiss!
We've actually been trying to interview Eric for a while now, but the members of Kiss have been a little hard to pin down here at Metal Sludge. In fact, the only member of the band we've ever managed to interview is longtime Kiss guitarist Bruce Kulick. Bruce did 20 Questions with us way back on September 21, 1999, then returned two years later for his Rewind on September 13, 2001. Our most recent feature on Kiss went up in March, when we ran a story about Metal Sludge correspondent C.C. Banana making a cameo appearance in the season premiere of "Gene Simmons Family Jewels" on A&E (featuring photos from the time C.C. stalked Kiss around New York City on Halloween). The Banana was also the first to acquire a genuine Metal Sludge capture of Kiss back in 2003, so it should come as no surprise that he is now the one responsible for tracking down Eric Singer for his official 20 Questions!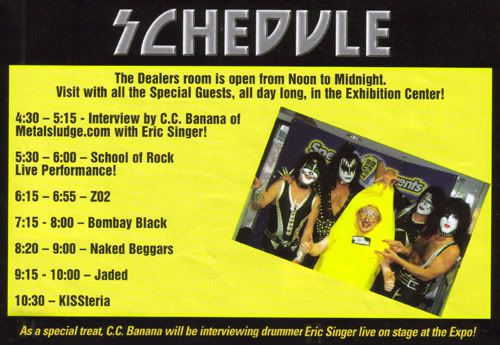 To make the occasion even more noteworthy, the following interview with Eric was conducted live on stage at a real Kiss convention! Above is a clipping from the official souvenir program, which includes a mention of the big event. The Banana first did something like this 2 years ago when he interviewed comedian Craig Gass for us at a New York comedy club, only this time there were a lot more people in the audience!
Anyway, here's C.C. Banana himself with a few more of the details:
Greetings, Metal Sludge!
On May 5, 2007 I had the honor of interviewing Kiss drummer Eric Singer at the 21st annual NY/NJ Kiss Expo. Since last year's interview with Twisted Sister guitarist Eddie Ojeda had ended up clogging the convention aisles with curious onlookers, Eric's interrogation was bumped up to the main stage, where it was enjoyed by several hundred Kiss fans. Eric was surprisingly candid and had a lot of great stories to share, including a few outlandish tales about Ace Frehley! It was definitely a pleasure to at last interview a member of Kiss and I hope that my fellow Sludgeaholics enjoy the exchange. Until next time...
Bananimalize!
C.C. Banana
http://www.CCBanana.com
http://www.myspace.com/CCBanana
It's always nice to hear from C.C. Banana, especially when he comes to us with a brand-new interview. The last one was right around the turn of the new year, when he somehow managed to snag holiday-themed interviews with all 5 members of Twisted Sister! Since then C.C. has apparently been keeping himself busy as "Bananakin Skywalker," issuing new interviews and adventures in support of the ongoing 30th anniversary of Star Wars. He also crashed the most recent New York Comic Con, where he harassed actor Gary Coleman and got himself interviewed by a ton of TV crews, including Heavy News, IGN and MTV! The Banana was even chosen to audition for comic book legend Stan Lee himself, for the upcoming season of "Who Wants to Be a Superhero?" on the Sci-Fi Channel -- an honor which secured him a place in the following full-page article in the "New York Press!"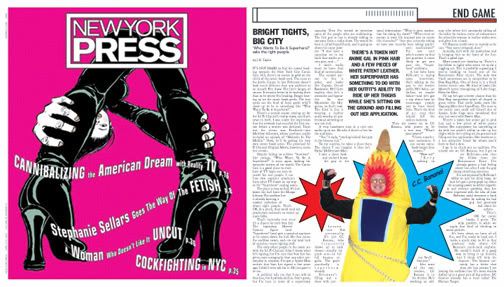 C.C. Banana featured in the 4/10/07 edition of "New York Press" (click to read)
Anyway, today the Banana returns to his rock & roll roots by bringing us the following Metal Sludge 20 Questions with Kiss drummer Eric Singer. It begins with C.C. leading the audience in a special song he'd written just for the occasion, sung to the tune of "SpongeBob SquarePants!" The Banana handles the verses and the audience chimes in on the chorus. Feel free to sing along at home!
Ohhhhhhhhhh...
Who is the drummer we're all here to see?
ER-IC SING-ER!
Right up on this stage, for you and for me!
ER-IC SING-ER!
He'll answer some questions you won't want to miss!
ER-IC SING-ER!
We'll talk Alice Cooper, we'll talk about Kiss!
ER-IC SING-ER!
Everybody!
ER-IC SING-ER!
ER-IC SING-ER!
ER-IC SING-ER!
ER-IIIIIIIC SING-ERRRRRRRRRRRRRR!
Okay people, are you ready for your special guest?
The crowd cheers!
Alright then.
You wanted the guest... you got the guest!
From the hottest band in the world... Eric Singer of KIIIIISSSSSSSSSSSSS!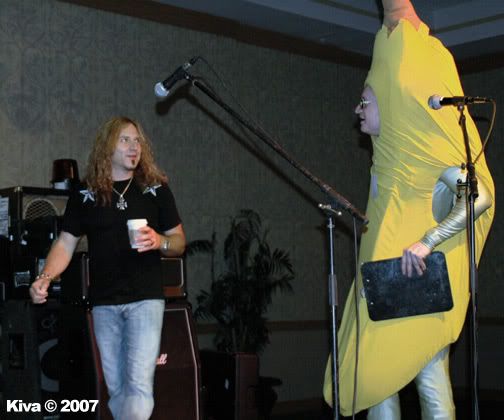 The audience applauds as Eric Singer walks onstage, looking a little confused by C.C. Banana.
I don't know what to make of this guy!
Few do.
How's everybody doing?
The crowd cheers again!
Alright C.C., do your thing!
1. What are you currently up to? This is your one and only chance to plug your shit.
What am I up to? Well, I'm usually up to no good but today I'm here talking to you! Then tomorrow I fly back to L.A. to start a week of rehearsals with Alice Cooper before we head out on tour for most of the spring and summer. In late July there will be a handful of Kiss shows, too. Oh, and last year I played drums on a rock opera that's coming out soon. It's a project called Avantasia by Tobias Sammet of the German metal band Edguy. Alice Cooper recorded a song for it just the other day and I know that Michael and Rudolf Schenker are going to be on it, too.
Wow! Eric Singer, you are quite the namedropper!
I'll drop you too, if you like.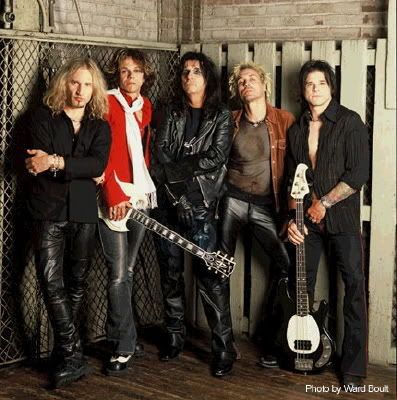 Eric Singer in the Alice Cooper band
2. Exactly one week from today, you will celebrate your 49th birthday! As such, you're actually a few years younger than the senior members of Kiss. Was it strange becoming a member of a band whose concerts you attended while growing up?
It was actually pretty cool. I remember going to see Kiss in 1975 at the Akron Civic Theater in Ohio. I was about 17 at the time and the stage was so high that I had to stand on a chair. I was right in front of Ace and I remember hitting his platform boots. Plus, I got his guitar pick that night! So yes, this all started for me when I was just a dopey young fan. And for the record, I'm only 6 years younger than Paul! He's the youngest of the original members of Kiss.
3. You first became part of the Kiss family by playing drums for Paul Stanley on his first solo tour in 1989. How did you get the gig and was there any talk at the time that you were being considered to fill the Kiss drum slot?
Well, at that time I was in New York, recording an album with Badlands. They had the same management as the guy who played bass on Paul's solo tour, Dennis St. James... whose real name is actually Dennis Feldman. Why do Jewish guys in the music business always try to Americanize their names? Anyway, Dennis mentioned to the management that Paul Stanley was planning a solo tour and was in need of a drummer. Since by then I had already finished recording my Badlands tracks, they sent me over to the Kiss management office, which was literally around the corner from my hotel. There I met with Paul and gave him some of the CDs I'd played on. He actually ended up hiring me based solely on those credentials.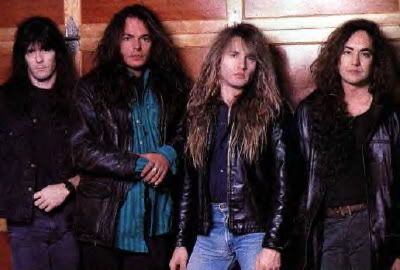 Eric Singer in Badlands
Realistically, I had no reason to think I'd wind up drumming for Kiss because Eric Carr was still in the band at the time. The next year, Kiss did the "Hot in the Shade" Tour and it wasn't until the following year that Eric Carr became ill. That's when they had me play drums on "God Gave Rock 'N' Roll To You" for the "Bill & Ted's Bogus Journey" soundtrack. After that, they began considering me for the band and for their upcoming album, which ended up being "Revenge."
4. Former Kiss guitarist Mark St. John recently died from a cerebral hemorrhage. How well did you know him, did you ever work with him and why do you think he fell on such hard times after his stint in Kiss?
I actually met Mark when he was putting together White Tiger back in the mid-1980s. He was looking for a drummer but at the time I was already working with another band. So I did know him, but only loosely. As for why he fell on hard times... well, he was a musician and musicians are traditionally derelicts. Hundreds of years ago, before there was ever a music industry, most musicians were just street performers. Maybe if you were very good or very lucky, you'd get hired to play for the king and queen and they might give you a better life. Otherwise, you were pretty much a loser. Kind of like most of us still are today!
5. Which hard rock/heavy metal band should give it up and call it a day?
Um... I don't think any of them. I think people should be able to do whatever the hell they want! If you want to keep playing, that's fine. My dad played music until he was in his eighties! However, if you're not willing to take care of yourself or if you can't pull it off anymore, you should also be prepared to take the heat. People can be mean and they will give you shit for it. But I think you should be able to play for as long as you can and for as long as you still love it.
So you're saying that you'll be drumming in Kiss for the next 40 years?
Yes, with Nicholas Simmons and Evan Stanley!

Kiss 2047: Nick Simmons, Evan Stanley, Eric Singer and Monique Frehley!
6. Of the following, which do you prefer and why?
Pepsi or Coke =

Neither!

What do you like to drink instead?

Coffee.


Zildjian or Paiste =

Well, I prefer pasties on women! But as a drummer, I prefer Zildjian.


ESP or ELO =

Uhhh... ELO. But ESP makes me money, so maybe I should choose that instead.


Kissology or Kissopoly =

I've never played Kissopoly, so I'll take "Kissology" -- even though I'm not on it.


"Seventh Star" or "Seventh Heaven" =

Well, I suppose "Seventh Star" isn't that bad of a record... so I'll choose that.


White Lion or White Tiger =

White Tiger.


Tommy Lee or Tommy Thayer =

Which do I prefer? For what, sex? Tommy Lee, of course! He's got that drumstick!


Vinnie Paul or Vinnie Vincent =

Vinnie Paul.


"Sanford and Son" or "Chico and the Man" =

"Sanford and Son" all the way! I'm a huge fan of that show. I even have it on DVD.


Karl Cochran or Chuck Garric =

Well, they've both played in ESP at one time or another. Karl is my buddy and he's at the expo today so I guess I'll pick him. But tomorrow it will be Chuck because I'll be rehearsing with him!
7. In 1995, it was you who suggested to Gene and Paul that they should let Peter Criss sit in with the band at one of the official Kiss Konventions. This set off a chain of events that ultimately led to a reunion of the original Kiss lineup, causing you and Bruce Kulick to be fired from the group. Looking back, how badly did you want to kick your own ass for making that suggestion?
Well, it was Gene and Paul who told me that Peter wanted to come down to the convention with his daughter. They wanted to know if I would be uncomfortable with that. I told them that not only would I not be uncomfortable, they should let Peter come up and play. That led to the taping of "MTV Unplugged," which eventually led to the full reunion. But they still had no idea how things were going to play out with Ace and Peter. So if the reunion ultimately didn't work or if the tour was a flop, they already had the "Carnival of Souls" album in the can and they still had Bruce and me on retainer. That's why they kept us on the payroll, so they could just pick up where they left off. We were sort of a "Plan B." That part wasn't so bad because we were still getting paid while they were out doing the reunion tour.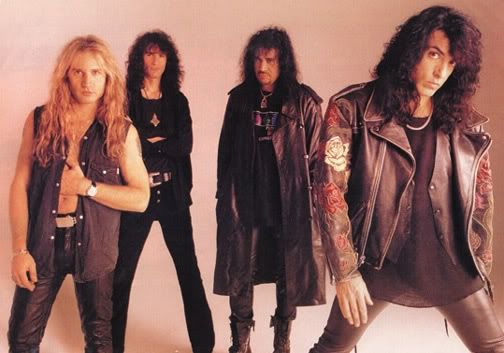 Eric Singer with Kiss in the 1990s (shortly before he got himself and Bruce Kulick fired)
Were they actually paying you enough to make it worth your while to sit around and do nothing while Kiss was on tour without you?
Well, they were out there making millions while we were at home just collecting a paycheck! Until one day when I got a call from Gene... I think this was sometime in July 1996. He'd called to say that Kiss would soon be coming to L.A. to play The Forum and that we should probably get together for a meeting. I knew right then, I was about to get fired! The next day, I listed my car for sale in the newspaper.
8. In 2001, you got the call to return to Kiss at the tail end of the so-called Farewell Tour, replacing Peter Criss for the Japanese and Australian dates. What was it like putting on the make-up and costume and performing with the classic Kiss line-up for that very first show?
Actually, the first time I wore the make-up was for the first photo session. Paul was the one who put it on me because I didn't know what the hell I was doing. Ever since then, I've done it myself and by now it's just like doing a paint-by-numbers! But yes, the first time I put on the make-up before a concert was kind of freaky. Our first shows were in Japan and we hadn't actually done any production rehearsals in make-up. I just remember looking out at the stage during the concert and thinking, "Wow, that's Gene Simmons... that's Ace Frehley... that's Paul Stanley... and they're all in make-up... and I'm playing drums!" It was kind of like a good acid trip.

The first publicity photo of Eric Singer as The Catman
(with make-up courtesy of Paul Stanley)
Did they give you your own costume or did they make you wear Peter's smelly old one?
No, they made me a new one. Peter and I are the same size but I'm built a little differently. The boots fit almost perfectly but Peter's costume is a little bigger in the middle because I'm a bit thinner. Although at the moment I'm a little chubby, so I don't think I'd fit into either one!
Do they let you hang onto the costume or do they make you leave a deposit and check it in at the end of the tour?
No, I get to keep it! I'm smart, I made that part of my deal! I actually have two complete costumes -- two different ones from the two tours I've done.
Do you ever put on the costume just for fun? Maybe for Halloween or entertaining dates on the weekends?
Uh... no.
9. In 2003, you were kicked out of the band again when Peter Criss returned for the World Domination Tour with Aerosmith and the recording of the "Kiss: Symphony" album. At the time you were so upset that you vowed never to work with Kiss again... and yet, here you are. What got you to finally change your mind and do you feel like you're always getting sloppy seconds?
Oh, I am always getting sloppy seconds! But you know what? Sloppy or not, at least I get to eat! As for why I went back... you know how Gene signs his autograph with a big dollar sign? That's why. Money talks and bullshit walks. Bottom line, I play drums for a living and whether I like it or not, it's still a business. Gene will tell you the same thing. It's not "music friends," it's "music business." So I have no regrets.

Eric and a few of his friends from the music business
10. On occasion, artists like Alice Cooper have needed to find last-minute replacement drummers when you've gotten the call to tour with Kiss. What do you think Gene and Paul would do if you actually turned them down for once?
Well, it's never been last-minute. It's always arranged ahead of time. As for what Gene and Paul would do... I don't know, you'd have to ask them.
Do they even have any other options?
I'm sure they do. Who in the audience here today plays drums?
At this point, about 3/4 of the audience raises their hands.
Remember that concert by The Who when Keith Moon passed out and had to be carried off by the stagehands? The band asked if anybody in the audience could fill in, and somebody from the crowd actually got up and played with them! So there are always options.
11. For what amount was your largest music-related check and what did you do with it?
Uh... maybe $25,000 or something like that. And I put it in the bank, of course! But I'm sure I still have the check. Hell, I still have my old per diems from when I played with Lita Ford over 20 years ago. I'm a real packrat.
Hey, that would be a good Kiss character for you -- the Packrat!
Yeah. But I definitely spend the money I make and I do enjoy it. That's what life is all about -- enjoying yourself.

Eric "The Packrat" Singer enjoying himself with Kiss, Joanie Laurer and Anna Nicole Smith at the Lane Bryant fashion show in 2002
12. Rate the following drummers on a scale of 1 to 10. 1 being a noodle-armed wuss and 10 being a powerhouse of percussion:
Frankie Banali =

In his heyday, I'd give him an 8 or a 9. Today, probably a 7.


Rikki Rockett =

I like Rikki. He's a nice guy but I have to give him a 6.


Anton Fig =

9... as you can see, it takes a lot to be a 10.


Bill Ward =

10!


Vinny Appice =

Hmmm... 8.


Jeff Martin =

7


Peter Criss =

Um... in his heyday, 7 or 8.


Kevin Valentine =

8


Nate Morton =

Ummm... 9.


Eric Carr =

Uh... 8.
But you left out all the drummers I really like!
Which drummers do you really like?
John Bonham, Roger Taylor, Buddy Rich...
Okay...
John Bonham =

10!


Roger Taylor =

Roger Taylor is also a 10.


Buddy Rich =

12! Buddy Rich is the best ever.
At this point, people in the audience begin shouting out their own suggestions.
Neil Peart!
In his heyday, Neil Peart was the drum god. 10.
Phil Collins!
He's a 10.
Bo Derek?
10!
Seriously, my favorite drummer of all time is Buddy Rich. If any of you have ever seen him play, you'll know what I'm talking about. He was just incredible, absolutely the king. You know how Tommy Lee would have his drum kit spin around and turn upside-down? Well, Buddy Rich did the same thing way before Tommy Lee ever did it! If you look around on YouTube, you can find an old video clip of Buddy Rich on his drum riser, spinning completely upside-down! It's just so cool!
13. Paul Stanley had a new hip put in a few years ago. What did he do with the old one?
Uh...
Did he keep it? Does he have it hanging in his living room alongside his artwork?
Actually, I think Gene has it preserved in formaldehyde for the next Kiss auction.
14. It was once suggested that you would be the drummer for the Ace Frehley band after Kiss had run its course, although now it doesn't look like that will be happening (with you still being in Kiss and Ace rarely showing his face in public these days). That being said, do you have any idea what Ace Frehley does all day long? It's not like he's busy holding down a 9-5 job, so what could he possibly be doing with all that free time?
Well, Ace is nocturnal. He only comes out at night! But I think he's just trying to keep himself on the straight and narrow these days. Hey, at least he's still got a pulse.
Do you think we'll ever get to hear that long-promised new album he keeps threatening to release every spring?
Oh, definitely. We'll see it at some point. The last I heard, Ace had already begun rehearsing with a new band. Jason Hook recently became Alice Cooper's new guitar player and he had just flown to New York to play with Ace. He said that Anton Fig had been playing drums with the band, although now it looks like Scott Coogan from Brides of Destruction will be the drummer. Jason also said that Anthony Esposito from Lynch Mob would be playing bass. Jason was actually going to be Ace's new guitar player, but then the Alice Cooper gig came along and he went with that instead. But that's the lineup Ace is starting to rehearse with, as of about three weeks ago. So that's a promising sign.

Eric Singer takes a bow with Ace Frehley and friends sometime in 2001.
15. Out of all the bands you have ever worked or played with, who were the coolest and who were the biggest dicks?
The coolest was definitely Queen, hands down. I totally respect those guys. They are amazing musicians and a true class act. It just doesn't get better than that.
So... not Kiss, huh? Very interesting, Eric!
What was the other question? Who had the biggest dick? That would definitely be Lita Ford's old bass player! That guy was hung like a fucking horse. When he was up on stage it would be hidden behind his bass, but every once in awhile he would lift his bass up and give everyone an eyeful! Remember, this was back in the '80s when everybody wore skin-tight pants that looked like they were painted on. I'd be playing my drums in the back of the stage, watching all the girls in the front row... then this guy would do his move and their jaws would drop! I swear to God, this would happen every fucking night. I remember Lita and her girlfriends being in the studio one day, comparing this guy to Tommy Lee. They said that he was even bigger than Tommy! This was in 1983 or 1984, when they were boning all those guys. In fact, back then Lita used to be always have sex with the guys in her band.
Really?
Yeah, she was a good sport about that! A real team player! She would get horny, climb into a bunk with one of the guys and just bang him! When I joined, the other guys in the band all told me they had boned her at one time or another. Of course, I never went there because by then she was engaged to Tony Iommi. And I was only in the band for a short time before I joined Tony in Black Sabbath.

Eric Singer joins Black Sabbath (after failing to bone Lita Ford while playing in her band)
Ace has a giant schlong too, you know. One night before a Kiss show, he actually took Viagra because he wanted his dick to be hard during the concert. When I asked him why, he said, "So people can see me get hard in the costume." He even tried snorting it once!
Ace Frehley snorted Viagra?
Yep! He thought it would get into his system faster. So Ace snorted the Viagra... but do you know what happened? His nose swelled up instead! True story! When I tell this stuff to people, they think I'm lying or embellishing. But it's all absolutely true. Anyone who has ever worked with Ace will verify it. You'll never meet another person like him. Ace Frehley stories are the absolute best.
In that case, tell us another Ace Frehley story!
Well, Ace was really mad at Gene and Paul while we were on tour in Australia. One night before a show, we were all in the dressing room, putting on our make-up... all of us but Ace. Apparently there had been some schism earlier in the day so when he finally did show up, he was really mad and really late. He came in without saying hi to anyone, put his bag down and went over to this big chalkboard that happened to be in the dressing room that night. He then proceeded to draw a huge pentagram on it, putting our initials on all 5 points -- G for Gene, P for Paul, E for Eric, A for Ace and D for Doc, our manager. Then he came over to me and whispered in my ear, "Something bad is going to happen in the show tonight. I just put a hex on Gene and Paul." I swear to God, he actually said this! Apparently Ace had been hanging out with a magician the night before and the guy had taught him some black magic. Anyway, nothing happened that night but the next night we played the same place, so Ace came into the dressing room again and added even more symbols and stuff to the chalkboard.
Did anything bad happen that night?
No, nothing happened that night, either.
I think I liked the penis story better.
The penis story is absolutely true. Ace is positively huge.
Is he as big me?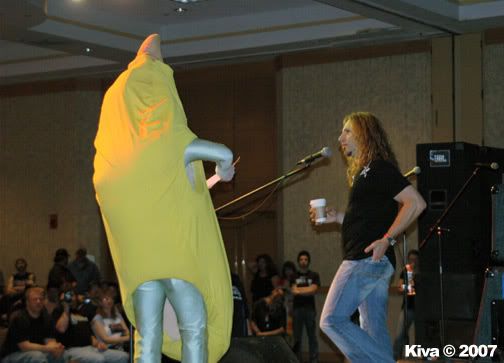 Eric Singer sizes up C.C.'s banana.
Yeah, that's about right!
I'm actual size, folks.
There you go.
Whoa! That was one hell of a tangent Eric and the Banana went off on there! Even though we never found out who the biggest dicks were, we did learn all kinds of disgusting trivia about rock star penises. And isn't that what it's really all about?
We now return to our regularly scheduled 20 Questions.
16. Yes or no, has Eric Singer ever:
Given make-up tips to Alice Cooper =

No.


Regretted not playing on the second Badlands album =

Not at all.


Met a singer named Eric Drummer =

Not yet!


Seen Lita Ford naked =

Close!


Seen Paul Stanley naked =

Yep. Ace, too. I've never seen Gene naked, though. Gene will not take off his clothes in front of anybody. He'll take off his costume and put on a robe but he will never go around naked. Plus, he never showers.
Gene Simmons doesn't shower?
I've never seen him shower.
Maybe he just licks himself clean?
I don't know what he does! He'll come off stage, dripping with sweat, make-up running down his face, confetti stuck all over him, just totally gross... yet girls will still have sex with him like that! I'm sure he must shower at some point, but I've never seen him do it.

Which one of these guys looks like he needs a bath?
Having said that, I will say that Gene is not a smelly guy. His costume stinks, but he doesn't. I've been around Gene for years and I can tell you that he does not have a hygiene problem. He doesn't have body odor or anything like that. It's just weird that I've never seen him shower. That's why I'm convinced that he must really be the Devil!
Turned down an offer to play on a tribute album =

Yes. I've actually turned down a few Kiss tributes because I didn't think it would be appropriate. I did once play on an Ace Frehley tribute album, "Return of the Comet," but that was just a tribute to Ace when he wasn't in the band. Plus, Ace has always been one of my guitar heroes and he was my favorite member of Kiss back in the '70s.
Felt left out because there is no Eric Singer action figure =

Not really. Although I am on the toothbrush!
Received a kiss from a member of Kiss =

Uh... I'm trying to think... Ace might have tried to kiss me at some point. I remember Paul telling me that once back in the old days, they were all sitting around the dressing room and for whatever reason, Peter just went over to Ace and put his dick on Ace's shoulder! Then Ace turned around and kissed it!
The audience and C.C. Banana let out a collective moan of disgust!
Hey, you wanted to hear the true stories!
Note to self -- don't put dick on Ace's shoulder.
Exactly!
Worn the Kiss make-up of anyone other than Peter Criss =

No.

King Diamond, maybe?
Nope, never did any of that.
Been in the presence of Peter Criss while wearing the make-up of Peter Criss =

Not yet. But there's still time.

Metal Sludge Trivia: Eric Singer and Peter Criss shared lead vocals on the song "Nothin' to Lose" from "Kiss: Unplugged!"
17. Speaking of Peter Criss, it was recently announced that he will soon be releasing his first solo album in 13 years. Will you be playing the role of Peter Criss on that, too?
Hey, I'm open to it! You never know, I might get the call.
18. We know this decision is ultimately out of your hands, but have you ever toyed with the idea of coming up with your own Kiss character? Do you have any ideas or were there ever any discussions that you might create your own persona?
No, not really. I mean, what would my make-up be?
Well, that was sort of the question.
Hey, it doesn't matter to me.
Personally, I think you'd make a great aardvark.
I'll do whatever, it's all good. It's just a costume. If anybody should understand about wearing a costume, it's you!
This is not a costume! This is just the way God made me!
Well, if you can come on stage looking like that, then I can surely dress up as anything.
So you never gave any thought to what you might do for your own Kiss character? I mean, I've done that and I'm not even in the band.
Okay, so what would you be?
Me, I'd be a pineapple.
Now you know why they didn't dress up Eric Carr in that yellow chicken hawk outfit.
19. It has been rumored that you will soon be issuing the first and only ESP studio album for literally the fourth time! First there was the 1998 version with 10 tracks, then the 1999 version with 12 tracks and the Japanese version with 14 tracks! Why do you keep asking fans to buy the same album over and over again? Who do you think you are, Gene Simmons?
Well, you always have to issue the Japanese version with extra tracks because CDs cost more in Japan. They don't want Japanese consumers buying the cheaper American imports over their more expensive domestic ones. So by giving them a bonus track or two, it's an added incentive to buy the Japanese editions. It's just a sales thing, it's always about the money.
Okay, so is there actually going to be a new American edition coming out, with or without any bonus tracks?
Nope, that must just be a rumor. At least as far as I know!
20. When you, Bruce Kulick and John Corabi perform together, how exactly do you determine whether to call the band ESP or Union? We only ask because often the line-ups have been virtually identical!
Actually, at times they have been literally identical... although we've since rectified that, I think. Now we make sure that when we play as ESP, we don't do any Union songs. Or maybe just one, if we do any at all. You might actually want to ask Bruce about this. When he had Fred Coury playing drums for a while they called it Union, but when I play drums people expect us to change the name of the band... even though we play the same songs! For the record, I was never officially a member of Union. I did play two shows with them in Japan in 2005, but I was just helping out when they needed someone to fill in.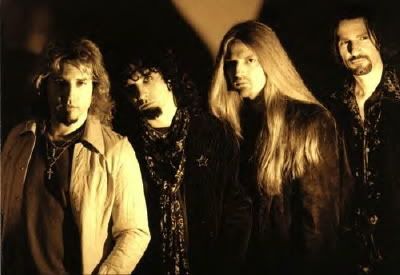 Eric Singer with ESP (or maybe it's Union, we really have no idea)
21. Name the best thing and the worst thing about appearing at Kiss expos.
The best thing of all would be meeting with the fans. I mean, it doesn't suck to have people say nice things to you and ask for your autograph! Plus, they buy your merchandise so you make some money, and that's always a good thing. I feel blessed because no other band in the world has fans who would support something like this. It's just the most unique thing. Look at Bruce -- he's been out of the band for over 10 years and he's still in demand at Kiss events every year. So it's great for guys like us that we can still do stuff like this.
But the worst things about the expos... bad breath and body odor!
22. The Last of Eric Singer:
Last time you dyed your hair =

Last year when Kiss played some casino gigs.
Last time you sang "Black Diamond" =

A couple of months ago with ESP in Europe.
Last time you saw Ace Frehley alive =

Last year at the VH1 Rock Honors.
Last time you listened to the "Revenge" album =

I don't know, probably a few years ago. I hardly ever listen to stuff I've played on. I never watch any of the long-form videos I'm in, either. I've haven't even watched the "Rock the Nation" DVD all the way through. I think I once saw most of "Kiss Konfidential," but that's about it. I usually only see bits and pieces. People don't believe me when I tell them things like that, but it's true. I guess I'm just uncomfortable watching myself on TV.
That's okay, I can understand. I'm uncomfortable watching you right now.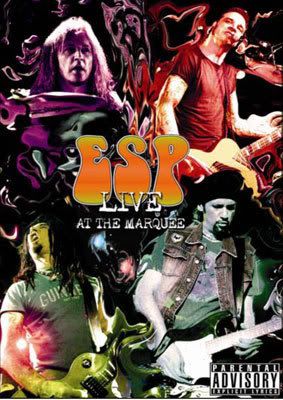 ESP: Live at the Marquee DVD (another video Eric will probably never watch)
Last time you saw an Eric Singer in a Kiss tribute band =

Two days ago! Just this past Thursday, I played a gig with the Starfuckers at the Cat Club in Hollywood. Some fan showed up with pictures of a Japanese Kiss tribute band with a drummer who performs as Eric Singer. She wanted me to autograph the photos for the guy. He did look like me, but his nose wasn't big enough!
Last thing you put in your mouth =

Coffee! And chocolate-covered raisins, about an hour ago. Although I think I may have also put my foot in my mouth a few times during this interview.
Last thing you said to Mark St. John =

Gosh, I don't even remember the last time I saw him...
Last time somebody called you Eric Doyle Mensinger =

That would be one of my ex-girlfriends. One girl in particular always used to call me by my first and middle names.
Last time somebody asked you to sign a picture of Peter Criss =

Probably today. Most fans know the difference but a lot of people are just clueless. And then there are those who know it's not me and they just don't care. Those are the people I like!
Last time you jammed with Gilby Clarke =

That has to be a few years ago. He actually asked me to play with him last night but I was on a plane coming here... to talk to a banana.
Last time you wore your Kiss costume =

Last year for those Kiss casino shows I mentioned.
Last time you picked a scab =

Just the other day I was picking at one on my hand. You know I eat those, right?
Eric Singer eats scabs?
Yes. You know what they say... you are what you eat!
At this point, C.C. Banana prepares to finish up the interview by announcing a surprise lightning round! The name of this exciting challenge is...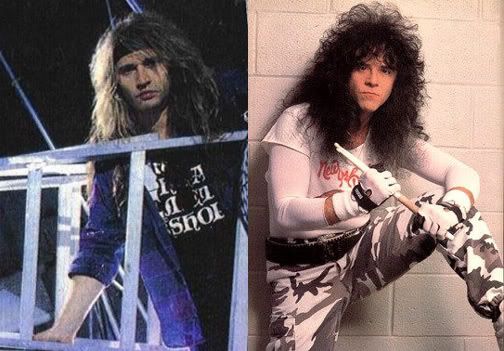 ERIC SINGER OR ERIC CARR?
We'll let the Banana explain.
Okay Eric, I will now rattle off 10 facts... either about you or about fellow Kiss drummer Eric Carr. If you correctly identify all 10, you will win a fabulous prize worth at least $7.00!
Okay, I'm ready.
Early bands included The Cellarmen, Flasher and Mother Nature, Father Time =

Eric Carr.


Early bands included Black Sabbath, Badlands and Lita Ford =

Eric Singer.
Appeared in the video for "God Gave Rock 'N' Roll To You" =

Eric Carr.


Played drums on the song "God Gave Rock 'N' Roll To You" =

Eric Singer.
Before joining Kiss, was accused of resembling a "rock & roll tumbleweed" =

Uh... Eric Carr?


After joining Kiss, was accused of resembling Barney Rubble =

Eric Singer. I still do!
Claimed to have once spent the night with 5 girls in Vegas at the same time =

Eric Carr, right?


Often spends the night with 5 fingers alone in his bedroom =
Was once interviewed by radio DJ Tony Mal on WCWP/88.1 FM =

That must be Eric Carr.


Was once interviewed by a delicious piece of fruit at the NY/NJ area Kiss Expo =

Eric Singer!
And with that last correct answer, the audience goes berserk! Well, not really. But they do applaud and cheer as the Banana awards Eric his prize...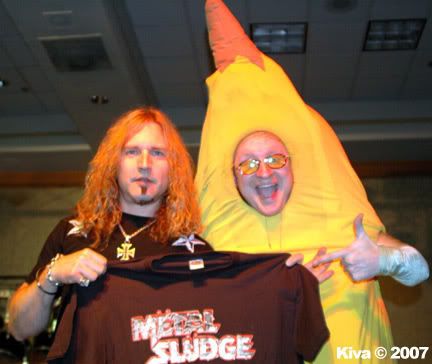 ... a genuine Metal Sludge T-shirt of his very own! (as always, available HERE)
And that, faithful Sludgeaholics, wraps up our official 20 Questions with Eric Singer of Kiss! Not bad, huh? For a guy we initially had trouble pinning down, Eric was actually pretty forthcoming with a lot of great information. We learned that Gene Simmons doesn't shower, Eric Singer is a scab (because he eats them) and Lita Ford used to have sex with all the guys in her band! Eric also told some pretty incredible stories about Ace Frehley putting hexes on the other guys in the group and kissing Peter Criss' penis. It's stuff like this that you won't find anywhere else! Metal Sludge just has a way of bringing out the best in people.
In closing, we would like to thank Eric Singer for being a good sport and answering all of our questions in front of a real live audience (something very few have done before). We also want to thank Richie Ranno of the Kiss Expo for agreeing to let a man in a banana suit harass one of his guests on stage. Thanks also to C.C. Banana himself for doing all the legwork in setting up this interview for us, then racking up several dozen more hours putting the article together. Additionally, C.C. would like to acknowledge the contributions of his helpful assistant Tracey (who faithfully followed him around the expo all day) and his photographer Kiva (who jumped in to save the day when the batteries of his own camera died at the start of the interview).
To learn more about Eric Singer (or to just tell him that it's about goddamn time he did 20 Questions with us), visit him at any of the websites below. Who knows? With a little luck, this interview may just lead to more Metal Sludge 20 Questions with the members of Kiss. We might even be the ones to finally coax former Kiss guitarist (and notorious recluse) Vinnie Vincent out of hiding! Until then, just keep crossing your fingers and picking at your scabs.
Eric Singer
http://www.Eric-Singer.com
http://www.myspace.com/Eric_Singer
Kiss
http://www.KissOnline.com
Alice Cooper
http://www.AliceCooper.com
Metal Sludge
God Gave Metal Sludge To You