20 Questions with Marq Torien, 7/23/06
20 QUESTIONS WITH...
BULLETBOYS singer MARQ TORIEN!
Metal Sludge has had its share of enemies and whipping boys over the years. People who either hate us or disrespect us or just don't seem to have a sense of humor. People like Sebastian Bach, Dana Strum, Jani Lane, Don Dokken, Blackie Lawless, Gerri Miller... the list goes on and on. As luck would have it, more than a few of these people have ended up crossing paths with our honorary badwill ambassador, C.C. Banana!
C.C. ran afoul of Sebastian Bach way back in 2001 when Sebastian smacked him around for wearing our Metal Sludge T-shirt! The Banana later crossed paths with Jani Lane when he interrogated the former Warrant frontman for his official Metal Sludge Back-4-More interview. C.C. even managed to invade the Blackie Lawless camp when he interviewed not only W.A.S.P. drummer Stet Howland but also Blackie's infamous 1,000-lb. mic stand!
Now, as part of C.C.'s ongoing Bananiversary Celebration, the Banana is back with one of our most unexpected interviews ever! It's with someone to whom we've been absolutely brutal over the years (even though he hasn't done much lately to incur our wrath). Regardless, we had absolutely no idea that C.C. was going after this guy and we still can't believe that he actually got him!
It looks like the Banana has a thing or two to say about the following encounter, so we'll let him take over from here. It does run kind of long, but considering the significance of the following interview, it contains a lot of stuff that needs to be said.
BulletBoy Meets BigBanana
My thanks to Metal Sludge for helping to spread the word about my momentous Bananiversary Celebration, a star-studded salute to the fabulous fruit! Throughout the month of July, I'll be commemorating the anniversary of my debut by releasing a series of brand new interviews with some of my favorite rock stars!
For my second interview of the month, I present to you 20 Questions with BulletBoys singer Marq Torien! I'm honestly as surprised as you are to see those words in print! For one thing, Metal Sludge has given Marq an especially hard time over the years and as such I'm amazed that he even agreed to talk to me. Moreover, I had absolutely no idea I'd be running into the man when I did! I'd gone to the Dingbatz rock club in Clifton, NJ to see the band Naked Beggars perform and was rather surprised to learn that Marq Torien was also on the bill! Apparently Marq and his solo band had been piggybacking their tour upon that of Naked Beggars, albeit seemingly unannounced.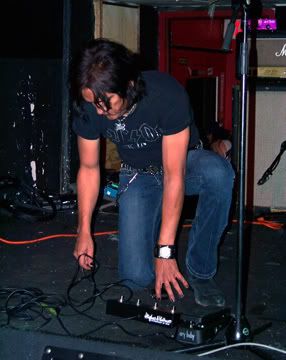 Marq setting up his gear before the show.
Realizing that I had just stepped into a veritable Sludgeaholic smorgasbord, I quickly set about writing up a 20 Questions interview right there on the spot! Without even waiting to see if Marq would consider doing it, I began rifling through my brain for whatever BulletBoys trivia I could remember. Though I would later come upon more than a few additional inquiries that I would love to have made, I'm actually fairly pleased with how the interview turned out. Especially considering that I ended up scribbling down the questions on whatever flyers or other scraps of paper I could find lying around the club.

C.C. Banana's handwritten 20 Questions for Marq Torien!
Shattering a few myths that may exist about Marq, I can say definitively that he is in great shape these days and his voice is in top form. That night's performance saw him energetically jumping and twitching around the stage, often grimacing intensely as he played his guitar. Revealing a set of the whitest, brightest teeth I've ever seen, I might add. Marq charged his way through a brief yet compelling 5-song set, consistently belting out his trademark wails and high-pitched screams with spot-on perfection.

Marq and his really white teeth
Mind you, he did this for all of about a dozen people that night, since most of the audience had already begun to leave the club by the time Marq had hit the stage. In an odd twist of circumstance, Marq was relegated to performing AFTER headliner Naked Beggars! Not since yours truly performed stand-up comedy immediately after the conclusion of a set by Greg Giraldo have I beheld such an unfortunate role reversal. No slight intended toward Marq or his band, but I daresay it was my own provocative Banana-bopping near the stage that eventually encouraged some of the crowd to return for his set-closing rendition of the BulletBoys classic "Smooth Up In Ya." Prior to that, the onstage trio had also tackled a cover of T. Rex's "Bang a Gong" and even premiered a new song from an upcoming Torien project (which Marq would later discuss in his interview).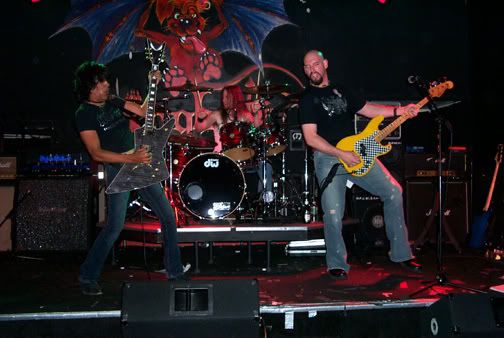 Marq playing with his new trio
Speaking of new material, this evening I was finally able to purchase the current BulletBoys CD, "Sophie." Though I am the proud owner of the complete BulletBoys catalog (including the exceedingly rare yet only marginally enjoyable "Acid Monkey" album), I had been in no great rush to place an order for this latest effort. The samples I'd downloaded hadn't done much for me and I'd heard less than favorable reviews of the album as a whole. However, now that I've had a chance to fully experience it for myself, I am happy to report that the music contained therein is actually quite good. Out of the 10 songs on the disc, easily 7 or 8 of them are immediately catchy and memorable. Standout tracks include "Amazing," "Outta Here," "Shake Me Awake," "Can I Show You" and "Neighborhood." Though others have claimed that the album production leaves something to be desired, all I can tell you is that more than a few of these songs have since gotten stuck in my head and I am glad to finally have this disc in my collection.
As for the all-important interview...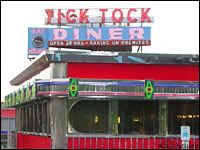 The fateful encounter would ultimately take place at around 4:00 AM over breakfast at the Tick Tock Diner on Route 3 in Clifton, NJ. As noted in my earlier interview with Jeff LaBar, I had by then run out of blank tape and therefore resorted to recording over a homemade Bon Jovi cassette I'd had in my car for the past 15 years. Whereas my conversation with Jeff had erased my well-worn copy of "Slippery When Wet," this chat with Marq would eliminate the flipside recording of Jon's "Young Guns II" soundtrack solo album. Pity, that.
Anyway, now that you've endured my admittedly lengthy preamble, please enjoy the strange yet wonderful experience that is 20 Questions with the one and only Marq Torien. Then don't forget to come back soon for the next exciting installment of my ongoing Bananiversary Celebration!
C.C. Banana
http://www.CCBanana.com
http://www.myspace.com/CCBanana

Marq Torien shares a hearty breakfast with C.C. Banana at the Tick Tock Diner!
We're not quite sure whom we're more impressed by here -- C.C. Banana for convincing Marq Torien to submit to a Metal Sludge interview or Marq himself for actually consenting to it! So we'll offer our praise to the Banana for confronting one of our primary nemeses and we'll congratulate Marq for having the balls to take it like a man! And no, that is not a gay reference (even though we've enjoyed accusing Marq of that over the years). In fact, because Marq was cool enough to sit down for this little chat, we're going to be nice and resist the urge to make fun of him for the duration of this interview. At least we're going to try, we'll have to see how it goes.
However, we will direct you to the following classic post from the Metal Sludge archives:
The Delusions of a BulletBoy - 1/26/04
http://www.MetalSludge.tv/home/index.php?option=com_content&task=view&id=44&Itemid=38
As you may recall, this article features the transcription of a Marq Torien interview from early 2004 in which we more or less tear apart every dubious claim the man makes, cutting through the bull and breaking down the numbers. Since Marq makes quite a few of the same statements in our own interview with him, we're content to let our previous comments speak for themselves. Besides, a lot of C.C. Banana's questions are pretty insulting on their own!
As C.C. explained, the following encounter took place on April 18, 2006, the same night he had also conducted a Rewind with Jeff LaBar and a 10 Questions with Naked Beggars. Well, technically Marq's interview took place on April 19, 2006 in the wee hours of the morning, but you get the idea. In any case, the following interview is destined to go down in Metal Sludge history! We now present to you our long-awaited 20 Questions with BulletBoys singer Marq Torien!

Marq and the BulletBoys in their heyday.
1. What are you currently up to? This is your one and only chance to plug your shit.
Grassroots. Going back to the grassroots and playing for the people. Getting back out there and playing some good BulletBoys songs and some nice honky-tonks with my 3-piece band.
2. What is the present status of the BulletBoys? Does the band even exist at this point? Who is in the current lineup and are there any plans to tour or release a new album?
There is going to be a BulletBoys semi-reunion and we'll be doing some shows during the summer and into the fall. I say "semi" because there is one member who is still resistant to the idea. I love this guy very much and I just wish he'd come back so that the four of us can do what we do best. I care about this person immensely and I think he's one of the greatest musicians I've ever played with. We shared a lot of things together and we've gone to battle alongside one another in the music world. So far I've spoken with both Lonnie Vencent and Mick Sweda and they're both on board. Lonnie's definitely ready to go and Mick has said that the only thing he'd ever turn down is a warm Budweiser. So we'll just have to see what happens with Jimmy D'Anda.
3. Why are you following around Naked Beggars on their tour? What did they ever do to you?
They came in and pillaged my home! They stole all my stuff, including my ProTools unit! Eric took all of my beer and my pot and Inga took all of my nice pants.
Seriously though, Jeff and Eric and I did a lot of touring together back in the day. They'd heard about what I've been doing lately and they just invited me out. I've been very blessed in that a lot of the shows have been sold out. It's been really amazing because I honestly didn't think that more than 2 people would show up. Though I've been offered a lot of different tours, I don't want to do anything that's not from the heart. I wanted to come back in really tip-top shape, looking good and feeling good and singing great for my fans. I just think that's really important.

Eric Brittingham with Marq Torien (looking a little too happy)
4. What exactly does "Za-Za" mean?
"Za-Za" is actually a reference to "The Godfather, Part III." Joe Mantegna plays a mob character named Joey Zaza. In the film, Michael Corleone's son Anthony poses as a cop and follows Joey around. At one point Anthony asks him, "Hey, are you Joey Zaza?" Then he pulls out his gun and shouts, "ZA-ZA!" and blows him away! Jimmy thought that was just great. "We gotta call the record 'Za-Za,' man!" So he was the one who came up with that.
NOTE: BulletBoys drummer Jimmy D'Anda himself told a different version of this story in his own 20 Questions in 2001!
20 Questions with Jimmy D'Anda - 2/6/01
http://www.MetalSludge.tv/home/index.php?option=com_content&task=view&id=368&Itemid=52
And while we're digging up great stuff from the past, here's a link to our very first 20 Questions interview with a member of the BulletBoys, guitarist Mick Sweda from 1999!
20 Questions with Mick Sweda - 11/9/99
http://www.MetalSludge.tv/home/index.php?option=com_content&task=view&id=110&Itemid=52
5. The "Za-Za" album came out in 1993, a time when bands like the BulletBoys were losing ground to the grunge movement. What was it like touring for that album? Was there any support from the label and were people coming out to see the shows?
The fans were always there but we did have a hard time with label support. I don't think they were very happy with the direction of that record. Then again, we weren't happy with it either. We had written a lot of great songs that did not end up on the album, so we were a bit perturbed, to say the least. We wanted a heavier, harder-edged sound but it turned into more of a pop record. I'm not trying to be disrespectful to the music but it just turned into a different animal. I still remember a lot of those unused songs and I wish they'd been included.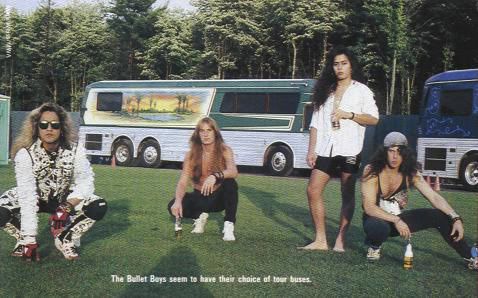 6. What can you tell us about the song "Thunder in My Heart?" It was once believed to be a Kiss demo from 1981 but has since been revealed to be a song by a band called Kagny & the Dirty Rats, featuring you! Come on, fill us in!
Um... I'm not sure. Are you sure that's the correct song title?
At this point, C.C. Banana breaks into a quick rendition of the song, right in the middle of the diner!
- Strong desire takes control of me tonight
- I'm on fire, you know I'd sell my soul tonight
- And it sounds like thunder in my heart
- And it sounds like thunder...
God! I can't remember. I would tell you if I did. Honestly, I just don't recall right now.
So who or what were Kagny & the Dirty Rats?
Kagny & the Dirty Rats was a band signed to Motown, featuring a singer by the name of Steven St. James. This was actually the first time I was ever signed with any record company. The band had been put together by Berry Gordy's son Kerry Ashby along with Benny Medina. Benny now has a huge management firm, Handprint Entertainment, where he's managed artists like Jennifer Lopez and Mariah Carey.
A friend of mine had asked me to come in and sing with the band when they were recording at Hitsville USA. They needed someone to sing on a song called "Emotions," a real R&B-style ballad which featured The Temptations on backgrounds. So I was just amazed that they wanted me to come in and sing on it! But when I showed up, Benny and Kerry just kind of looked at me as if to say, "What's going on with this surfer dude?" They thought I looked too much like a rock guy and wanted to know if I could sing R&B. So Steven said to them, "Hey, I'm telling you, this guy is great." So they played the track for me and I just fell in love with it. Fortunately, I was able to give them what they wanted and they were just amazed that I could sound like that. We ultimately recorded a full album for Kagny & the Dirty Rats, which got MTV airplay and everything. This was way back in the early days of the channel, around 1983 or 1984.

Marq Torien in Kagny & the Dirty Rats!
(Click on the photo for more information about this album)
I actually did a lot with Motown. I worked with Al DeBarge, who was extremely popular when I was a kid. I played guitar for him on one of his first tours. We opened up for Ashford & Simpson and played Radio City Music Hall, which was a big thrill for me since I was so young. So Motown actually gave me my start and taught me a lot about the music business. They taught me about chasing your dreams and working really hard and sticking up for what you believe in. Berry Gordy is just such an amazing human being and entrepreneur. I was very, very fortunate to be in his home and learn from him. And Benny Medina ended up being something of a guru to me in my career. He's always been there for me and I still call him up and tell him what I have going on. He always asks me to send him my newest stuff so he can listen to it. And Benny is huge now! He won't pick up the phone for just anybody. So I've been very fortunate.
7. Rate the following singers on a scale from 1 to 10. 1 being someone with extreme laryngitis and 10 being a vocal god.
Tom Keifer =

10


Steve Whiteman =

Gosh, I like him. I would say... 9+


Stephen Pearcy =

To me, Stephen is more of a vocalist than a singer. I would probably give him a 6.


Jizzy Pearl =

2


David Lee Roth =

I would give him... probably an 8+


Kip Winger =

Gosh, he's got a great voice. I would say he's about an 8.


Phil Lewis =

Man... that's a hard question! I don't know... but I do like Phil's voice. I would say about a 7.


Mark Free =

On a good day, that guy is a solid 10. Although I guess he's not a "guy" anymore, is he! He's Marcie now!


Jaime St. James =

2


Steve "Sex" Summers =

I'd say Steve is a 3, maybe a 4. He'd probably admit that, too.
Personally, I would say a 10 or a 10+ would be a guy like Stevie Wonder or a guy like Robert Plant. In fact, I just heard some new live stuff from Whitesnake the other night and I simply could not believe that David Coverdale was still sounding so amazing!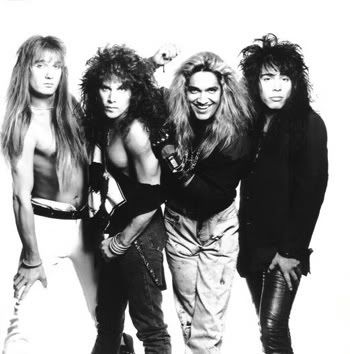 8. Why in God's name did you call your greatest hits album "Burning Cats and Amputees: People With Issues?" That's even worse than naming your daughter Apple or your van Bubbles.
Well, we had a friend whose cat had died. He didn't want to take it to the vet for cremation so he put it on his barbecue and did it himself. For real! It was some kind of Indian ceremony. So that's how we got "Burning Cats." As for "Amputees," we had a bus driver about 6 year ago who used to enjoy having relations with amputees. That was just his thing. And "People With Issues..." me, Lonnie, all of us... we've got a lot of issues! We were just sitting around one day, tossing out ideas and I asked, "Are you thinking what I'm thinking?" And Lonnie just said, "Burning Cats and Amputees: People With Issues!" And that was it! We figured nobody would get it, but it just felt right so we went with it.
At this point, C.C. Banana asks the waitress for another soda! The Banana must have worked up quite a thirst that night because he plowed through 3 Coca-Colas during the course of this interview. Easy there, C.C.! You're driving!
9. Speaking of your greatest hits album, how did that turn into such a fiasco? It featured everyone's favorite BulletBoys songs, re-recorded to sound worse than ever before! You couldn't even hit the high notes on "Smooth Up In Ya!" Were you on crack or something when you recorded that album?
That record was done very quickly. We did the whole thing in one day. We played and sang at the same time and just kept the bad with the good, kind of like a live show. We left the clunkers in there! But you're right, it did sound pretty awful. Parts of it are just atrocious. I was surprised when I went back and listened to it. "What the hell was going on? What were we thinking?"
I hate to say it, but sometimes you get to the point where you just don't care how it sounds. We were all just having so much fun in the studio together, it was almost like a jam. We were drinking and getting high and having a good time. We did want it to sound good but I just think the four of us were more concerned with enjoying the process.
Wow! We've been saying that album sucked for years but it's amazing to hear Marq agree with us. To read Metal Sludge's original review of this abomination, click on the cover below.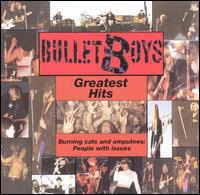 10. What happened on your ill-fated tour with L.A. Guns and Black 'N Blue in 2003? It seems like the BulletBoys dropped off the bill pretty quickly.
It was a combination of a lot of different things. One of them was that we were told the tour would pay a certain amount of money, which it ultimately did not. Plus, when the BulletBoys were onstage the place was full. After we finished, the place emptied out. I won't say which band would be out there playing, but there would only be about 20 people left. So monetarily it just didn't seem fair.
We were also having a lot of problems on the road. I was out there with a new drummer and a new bass player, with guitarist Keri Kelli pulling double duty with BulletBoys and L.A. Guns. Keri is an amazing dude and I love him to death but I think it was just too much for him. He was burning off a lot of energy playing the BulletBoys' set because we just go off and have a great time. Then he had to play in L.A. Guns and he was just exhausted. It started out to be a good arrangement but it just turned into a mess.
Then one day I woke up to find that our tour manager Mark Rojas had been stabbed by our bus driver. He literally tried to kill him! When something like that happens on the road, it's just a bad omen. Then after the bus driver was sent to jail, we found out that he had been wanted for attempted murder and that he had a big gun on the bus that nobody had known about. I just didn't feel comfortable continuing after that so we decided to pull out. I think we played 2 or 3 shows, maybe few more than that. It had nothing to do with L.A. Guns, it just wasn't right for me. I felt that there were a lot of Indians out there and that I was the chief. And that was a little hard on me because I like to have fun, too. Plus like I said, the money wasn't right and I just felt very uncomfortable playing our songs with people who hadn't written them. I don't know, it was just very difficult out there on that tour.
For a different take on how this all went down, we again refer you to the following article:
The Delusions of a BulletBoy - 1/26/04
http://www.MetalSludge.tv/home/index.php?option=com_content&task=view&id=44&Itemid=38
11. What the fuck was up with the BulletBoys in the mid-1990s when you changed your name to Acid Monkey? At that time, the band consisted of you and Lonnie Vencent with two new guys (Tommy Pittam and Robby Humeniuk). Word was that because your new material sounded so different, you just decided to change the name of the band. Did you honestly believe that would fool anybody?
That never actually happened. It was just a rumor that spread like wildfire and we couldn't stop it. Even when we went on the road, people would ask us why we were changing our name to Acid Monkey. But no, we never changed the name.
12. In 1995 you released an album by that name under the BulletBoys moniker and it was the most God-awful piece of dreck ever recorded. You somehow even managed to ruin your cover of "American Pie!" What do you have to say for yourself and are you prepared to apologize to your fans for inflicting that album upon them?
Yes!
I'm ashamed and completely appalled and I apologize to any ears that have ever listened to that album! It was more of a beach, punk, skater type of record. Lonnie and I grew up skateboarding and surfing and we've been a part of that lifestyle for a long time. So back then we were just hanging out by the beach and doing that kind of stuff. We were working with Tommy and Robby and we just wanted to go in a different direction, try a few different things, try some thrash songs... we just wanted it to be completely different. So it's not like previous BulletBoys albums at all. That's one of the unique things about this band, we've never stuck to a specific sound. We've always made the conscious choice to evolve with each record. Personally, I feel that's a good thing.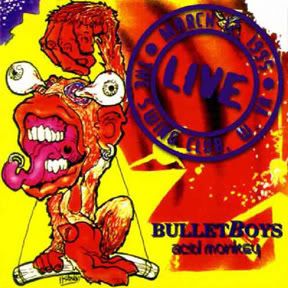 BulletBoys' Acid Monkey album
13. What do you remember most about writing or recording the following songs?
Smooth Up In Ya =

I remember being in Lonnie's mother's garage in Carson. We had been partying for awhile when Lonnie came up with the riff. He said, "Dude, I've been working on this thing and you've got to hear it!" So he played it for me on the bass and I thought it was a really good riff, really strong and melodic. Then Mick started playing some amazing stuff and Jimmy came in with his big fat kick and snare. So we just started working with it and I jokingly called the song "Smooth Up In Ya!" When Al DeBarge was trying to pick up on his female friends, he would always tell them, "If you come home with me, I'll go smoooooth up in ya! Smoooooth as a baby's bottom, smoooooth as the finest silk you can lay your body on." So I told him that one day I would write a song called "Smooth Up In Ya!" He thought that was just hilarious! He said I was crazy and that they'd never play it on the radio! He just fell down laughing and thought I was completely nuts, but of course we ended up writing the song.
At the time we had been working with Gene Simmons, who was supposed to produce our first record. Gene always told us, "Write simple songs about simple things." He also told us to be true to ourselves and not be afraid of writing something that they won't play on the radio. I think Warner Brothers was actually more worried about that than we were. I just figured that if songs like "Slide It In" or "The Stroke" or even "Lick It Up" could get airplay, it was worth a shot. And that's how "Smooth Up In Ya" came together.
Shoot the Preacher Down =

That was written about all the absurd evangelists that were on TV at the time. We were simply trying to make fun of them but a lot of people took that song way too seriously. Especially when we played down south in the Bible Belt. The kids loved it but their parents didn't appreciate it at all.
For the Love of Money =

The O'Jays! I had the idea of doing that song because of my R&B background. We just started working on it and the guys played it amazingly. We came up with our own rendition of the song and our producer Ted Templeman really liked it, so we threw it down on the record.
THC Groove =

I remember just being really angry about what was going on in the business at the time. We felt that we were a band that just didn't fit in with all the other bands. We've always kind of felt like that because we weren't Poison or Warrant or that type of band. We were a jeans and T-shirt kind of band... long hair, no hairspray, just playing hard rock. We were pretty aggressive for the time, we'd even break stuff onstage. We thought we were The Who or Van Halen or whomever the hell we thought we were.

Marq Torien in jeans and a T-shirt, without a drop of hairspray.
Talk to Your Daughter =

That was a Robin Ford song that Ted had brought in to us. He really liked the feel of the song and he felt that we could do something really cool with it. When we first started playing it we weren't really getting the feel and we didn't really understand it. But the more we worked with it, the more we started understanding where Ted wanted us to go with that type of song, that type of shuffle. He just thought the whole lyrical content suited us perfectly. In the end, it worked really well. I love that song.
Hang On St. Christopher =

That was actually another idea from Ted Templeman. Although I would also have to give credit to Mick Sweda because at the time I was not the biggest Tom Waits fan. I think it turned out as well as it did because of the other 3 guys. The rhythm section they laid down was just incredible. Ted also brought in Bobby LaKind from the Doobie Brothers to play congas on that song, before he passed away. Even Ted himself played some stuff, a cowbell or a triangle. And hopefully I did a decent job on the vocals. Overall it just had a really cool vibe and worked really well.
Freakshow =

Basically, that song was about the band and all the stuff we did. We just felt that the band and the fans somehow combined to create a sort of freakshow. After awhile, we even started asking them, "Why are you guys coming out to see us? What are we doing that you like so much?" I think it's just that we were being honest with the music and being honest on stage, laughing with each other and just being idiots.
When Pigs Fly =

Then I'll come back to you! It's just an old saying, something your grandpa might use. At that time, I was dating somebody that I just did not ever want to be around so it spawned that song.
At this point the waitress comes over to see if the thirsty C.C. Banana wants another soda!
Sing A Song =

That was Lonnie's baby, actually. He just had this vision of writing something that was really simple. It was a song about the whole Rodney King situation and all the craziness that resulted. We'd had the misfortune of watching our city burn so we just decided to write that song about what was going on at that time.
Terror Ride =

You know, that was a really strange song for us. Kurt Cobain had just died and our guitar player at the time, Tommy Pittam wanted to write a song about him. It was basically about his whole life of fame and his eventual demise. A lot of those lyrics were written by Tommy. He really had a feel for them. I just loved what he wrote and what he was writing about, so that's how that came together.
A.P. =

"American Pie!" Lonnie and I are both big Don McLean fans. It was actually Lonnie's idea to record that song. He'd heard me sing it a lot and sometimes we'd just fool around with it. One day we were in Philly and Lonnie started insisting that we go into the studio and record it. I told him that we should do it with a kind of R.E.M. feel because no one had ever done it like that before. It was the last song on the album and people really dug it so we played it a lot on the road.
14. How exactly did the BulletBoys come together? Rumor has it that you were all part of King Kobra with Carmine Appice, but then you took all the songs intended for the next King Kobra album and instead released them as the first BulletBoys record, leaving Carmine in the lurch. Does that about sum it up or are we overlooking something?
Well, some parts of that are true but other parts are not. Lonnie, Mick and I did meet in King Kobra and it was definitely awesome working with Carmine. He's just an amazing drummer and a really, really good person. He taught us a lot. Lonnie had originally brought me in to sing after Mark Free had left the band, so I was the scab singer and I kind of scabbed my way through some songs. I did okay and I tried my best, but we were all very young and it was just time to go out and get what we felt was ours. We weren't happy with the direction Carmine wanted to take the band and we had a different vision of what we wanted to do.

Which one of these guys is Carmine Appice?
15. Be honest, Marq. How many copies of the 2003 BulletBoys CD "Sophie" have you actually sold? Not counting those bought by family, friends and copies you gave away for free.
Um... gosh... man... it's just such an underground record. It really hasn't been distributed and it's just been sold online. So maybe about... somewhere between 20,000 and 40,000.
Really? 20,000 to 40,000?
Yeah.
Alright, hold on a second.
Just stop right there.
Marq, we appreciate that you've apologized for "Acid Monkey" and admitted that your greatest hits CD is a piece of crap. We're even willing to let you get away with saying that your trio has been playing sold-out shows and that Benny Medina still takes your calls and that Inga Brittingham stole your pants. We promised we'd go easy on you because you agreed to do our interview and we've been trying really hard to keep quiet over here. But when you tell us that you've sold 20,000 to 40,000 copies of the newest BulletBoys CD, we simply have to jump and put a stop to that.
Sorry.
No way.
Ain't gonna happen.
If you had maybe shaved a zero off each of those numbers, we'd be more inclined to believe you. 2,000 to 4,000 is actually a pretty respectable number these days, especially for a CD that's available only at your website. But if you want us to believe that you've somehow moved 20,000 to 40,000 copies via the internet alone, then you are seriously wacked, my friend! Whatever you're smoking, send some over here because that's some good shit! Marq's website BulletBoysRecords.com has not been updated in literally 3 years. In case you missed it, that's THREE FUCKING YEARS! Nobody buys stuff from a website that isn't updated because they figure they'll never get what they paid for. They just assume that their money will end up buying someone more of whatever substance they smoked to convince themselves of selling 20,000 to 40,000 copies of an album that's only available on a website.
Even if Marq had wanted to claim additional CD sales from his live shows, he wouldn't have much of a leg to stand on. He and the BulletBoys have only played a handful of concerts over the past 3 years. As Marq himself stated above, they lasted just a few shows into the only remotely prominent tour they've been on recently. In fact, the very night of this interview, the Naked Beggars merch department reported sales of exactly 1 BulletBoys CD, and that was the one purchased by C.C. Banana! You can actually see it in the picture up top! You'd think that Marq would have simply given C.C. a copy of the album, considering that this interview is probably the most press the man has gotten in ages. Then again, the Banana did get him to pay for 3 NJ diner sodas, so perhaps everything worked out even.
We're not even saying that the album is necessarily bad. The Banana says that "Sophie" is a solid effort so we'll take him at his word. But no matter how good it may be, there is simply no way that an act like the BulletBoys (whose only bona fide hit record was released 18 years ago and who hardly ever do anything to put themselves in the public eye) can move that many units today. The only bands from that era who are still able to eke out an existence are former A-listers like Def Leppard or Poison, and even they aren't doing so hot. The last Poison studio album "Hollyweird" SoundScanned only about 50,000 copies in its first year of release, despite the fact that it had distribution in all the big brick & mortar retail chains (where a lion's share of the sales are racked up).
Again, we don't want to call Marq a liar, especially since he was cool enough to sit down and talk to us. So we'll just say that Marq probably just doesn't count very well. Yeah, that's a nice way of putting it. For more on Marq's creative arithmetic, we again defer to our earlier statements in the following classic Metal Sludge article:
The Delusions of a BulletBoy - 1/26/04
http://www.MetalSludge.tv/home/index.php?option=com_content&task=view&id=44&Itemid=38
Whew! Didn't it feel great to finally let that out? Anyway, now back to the interview.
16. Tell us what it was like recording the song "Neighborhood" with Sebastian Bach. Was there ever any drama or other difficulties while you two were working together?
I've known Bas for a long time and out of all the people I've toured with, I've always stayed in contact with him. When I first met Sebastian, there wasn't any sense of competition between us. We just dug each other as people. We could hang out and talk a bunch of shit and laugh and have a good time. "Dude, I dig you!" "I dig you, too!" And we've both always really respected each other's vocal abilities.
So no, there was no drama. Absolutely nothing. I was in the studio finishing up a couple of tracks and he just gave me a call. "Dude, what's up? I'm in L.A.! Where are you guys?" I told him we were down in Torrance so he said, "Dude, I'm gonna find you! I'm gonna come down!"
So Bas and I were just hanging out, shooting the shit and having a couple of beers. And I asked him, "Listen, before we shut down is there anything that you want to sing on?" He just said, "Aw, I don't know, bro!" So I said, "Please sing on something, whatever you want to sing." I played him a rough mix of "Neighborhood" and he said, "Man, that's a great song! I want to sing on that!" And that was it. He went in there and just fucking belted it out in 5 to 10 minutes. It was a lot of fun and it turned out great.
17. For the record, what is the official spelling of "BulletBoys?" Is it one word or two? And do you capitalize the second B?
One word, and the second B is capitalized. And tilted!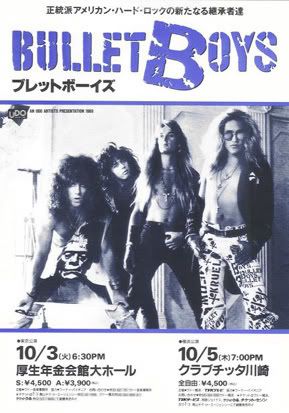 The official BulletBoys logo:
1 word with 2 capital B's (1 of which is tilted)
18. Give us your fondest memory of the following years.
1979 =

Oh, God... ummm... Uh... it was a good year.
For those of you who have already read our classic Metal Sludge post above (and let's face it, we've mentioned it enough times by now) you'll know that Marq was probably just trying to avoid answering this question because he likes to shave a few years off his age. More on that in a moment.
1982 =

Uhhh... hmmm... can I just say that I remember Quiet Riot dominating at that time? Absolutely huge. I was just really happy for Carlos and Kevin and Frankie and Rudy. I thought it was just amazing that a band who had worked so hard their whole lives in the L.A. circuit could get so big. I was just a kid, trying to get into clubs and they wouldn't let me in. But those guys did it! People say a lot of stuff about Kevin but he has always been cool toward me. Even when I wasn't anybody, he always had respect for me and my musical ability.
Marq seems to be implying here that he was too young to get into clubs in 1982, which doesn't really make sense since he was supposedly a member of Ratt at the time. Still, we wanted to give Marq the benefit of the doubt so C.C. Banana contacted Ratt drummer Bobby Blotzer for some verification. Here's how that went down:
In a message dated 7/20/06 5:13:33 PM, C.C. Banana writes:
Subject: Banana Bothers Blotzer
Hey man,
I'm currently assembling a new interview with Marq Torien and I'm trying to verify some facts about his work prior to forming the BulletBoys. Word is that he played guitar in Ratt sometime around 1982 and I just wanted to confirm that fact before referencing it in print. So if you have a moment to provide a bit of info as to when Marq played with you, how long he was in the band or any other tidbits that come to mind, that'd be way keen.
Thanks!
C.C. Banana
In a message dated 7/20/06 5:35:57 PM, Bobby Blotzer writes:
Hey dude:
Marq was in Ratt for 4 months from June to Oct.
And no he did not write ANY songs in Ratt FYI.
Hope all is good with Double C
Thanks, Bobby! We appreciate the help and we'll be sure to send you a cheesecake for your efforts! Anyway, so much for Marq not being old enough to get into clubs in 1982. Nice try, though!
1988 =

A good year! Guns N' Roses' first record came out. BulletBoys' first record, too. Tesla's second and Pantera's "Cowboys from Hell."
1990 =

"Freakshow" came out. A lot of different music coming from up north. Kind of the start of the changing of the guard. But we were still out there touring. Even for "Acid Monkey," the shows were all sold out. Lonnie and I were out there, bare bones... it was just amazing. It tripped me out!
1993 =

Not a very eventful year. "Za-Za" was a bitter pill to swallow.
1995 =

Hmmm... I'll pass on 1995. I'm sorry, but it is 5:00 in the morning!
1998 =

Oh, gosh... I wouldn't know what to say about 1998. I'm sure I'd have a lot more answers but I'm just getting really tired. I'm sorry.
2000 =

A very, very good year!
2003 =

A tough year because we had a lot of problems with "Sophie." Just a lot of starts and stops recording that album. Eventually I was able to finish it with my friend Ronnie Borchert. We just tried to do our best with the money we had at the time. This may sound kind of stupid, but I knew that there were fans out there who really wanted something new from the BulletBoys. I have a lot of love for all the fans who have taken their hard-earned money and bought our records over the years. I just think it's really special that 15 years later, the people are still there and we're still able to tour and I'm still able to play. I've played about 20 shows already with my 3-piece band and they've just been packed! I'm trying not to exaggerate and sound like a complete imbecile but there have really been a lot of people there. Some of the shows have even been sold out. So my manager has just been telling me to keep doing what we're doing.
2006 =

Starting a new project. A brand-new band called Ten-Cent Billionaires. I've been working on the record for a couple of years now and I'm really excited about it. We're getting ready to drop it with a brand new record company but I can't really go into detail just yet. I'm not trying to sound secretive or anything but we honestly have something really, really solid with this record. We're just trying to dot the I's and cross the T's. God willing, I hope to have this record out by the end of summer with a video on one of the video channels.
I would say that the sound of this band leans toward the old school with a fresh touch of the new school. It actually sounds very Sunset Strip to me. There's not really a lot of embellishment on it, it's real meat and potatoes. Vocally, I'm screaming my butt off so the fans should dig that. People who hear it really seem to like it and I'm very happy about that.
Originally I wasn't even planning to release it. I was just going to form the band and play some shows and see how things went. But people just kept asking me to play them the new music and they'd always be baffled that it hadn't already gotten me signed. The music actually got picked up by 6 or 7 radio stations in the state of Florida and it just did really well so we went in and started to make a record.
Actually, first we went in and built a recording studio because I couldn't find any that weren't ridiculously expensive. Whether we went to Miami or Tampa or whatever, these places were charging an arm and a leg and I just didn't want to rack up a bunch of expenses again. Instead, we put the money into building our own studio so we could take our time with it, even though building the studio took almost a year by itself. Finally we started piecing the record together with a very close friend of mine and it turned out really cool. So basically, we were the first band to come out of that studio.
19. Name 3 high points and 3 low points of your career thus far.
I would say that a high point would be first getting signed to Warner Brothers. At the time, they were the biggest label you could possibly sign with! Our producer Ted Templeman had previously worked with the Doobie Brothers and Van Halen and he worked us really hard. We even took pictures of our very first checks! We wanted to remember them because they had the Warner Brothers logo on them!
A low point would be when I lost my voice. Not too many people know about this but I had some problems with vocal fatigue when we were doing our second record. After years and years of singing and two solid years of touring, being out of control and never getting enough rest... it just took its toll. It was simply my worst experience as a musician because I felt like I was letting everybody down. So it just took forever to record that album. But I was able to rehabilitate my voice and I learned a lot from the experience. That's one reason my life is so great right now. A lot of people can't really sing like they used to, but I am still able to do it.

Marq lost his voice, but thankfully not his hair!
20. The Last of Marq Torien:
Last time you recorded a new song =

About 4 months ago.


Last time you were recognized on the street =

Today!


Last time you had sex with a stranger =

Oh... a long time ago!


Last time you saw pigs fly =

Right now!


Last time you spoke to Lonnie Vencent =

I spoke to him yesterday.


Last time you received a royalty check =

Last month.


Last time you sold a copy of "Sophie" =

Tonight!


Last time you were ridiculed for releasing "Acid Monkey" =

Every day!


Last time you read Metal Sludge =

Um... I read Metal Sludge a few months ago when they were talking about me being gay and homosexual. And I had to speak with a very good friend of mine to ask him why he keeps doing that! I mean, I'm married and I have two kids and it's just not cool any more, you know?
But the important thing is... Marq Torien reads Metal Sludge!
Yes, I really do love Metal Sludge. I'll check it out every once in awhile and I'll just think that it's so hilarious and out of control. Too many people take themselves seriously but I don't take myself seriously at all.
Hey, I'm just a normal guy and we're all in this shit together. I'm just fortunate enough to do what I do and hopefully I'm gracious enough to thank the fans who still pay their money to come out to see my stupid ass.
Last time you were interviewed by a Banana =

Before tonight I was never interviewed by a Banana in my life! But I'll tell you what, that was one of my favorite interviews ever and I will remember it always.

C.C. Banana with Marq Torien (and Marq's ultra-white smile)
Well, that was certainly an eye-opener!
Who ever thought we'd live to see the day when Marq Torien would agree to do 20 Questions with Metal Sludge? The next thing you know, we'll all be flying around in hover cars and traveling to the moon for vacation! Not only did Marq claim that this was one of his favorite interviews ever, he also admitted to being a closet Sludgeaholic! How's that for a kick in the head! After all these years of ranking on the guy, it turns out that he's actually a fan! Who would have guessed? Maybe next we'll learn that Sebastian Bach sleeps in a pair of Metal Sludge pajamas or something.
As noted in our introduction, Marq made a lot of claims that we were tempted to call him on, but we wanted to cut him some slack since he was cool enough to do this interview with us. Plus, we didn't want to scare him off from ever doing another Metal Sludge interview someday! Still, we simply had to say something about his claim of selling 20,000 to 40,000 copies of "Sophie" via his website because that was just ridiculous. We'll be laughing about that one for a long time to come.
We already have more than a few topics in mind for a potential Marq Torien Rewind. Like the time he allegedly spat on Sludgeaholic of the Month Jeff Easton! Or what Jason Hook told us about Marq throwing up after every show. Or how porn star and ex-girlfriend Kendra Jade claimed that Marq seemed to prefer men to women! Or that story Jimmy D'Anda told us about Lonnie Vencent kicking the shit out of Marq in the kitchen of a rock club in CA, then Marq shoving his mic stand through Lonnie's car window and tearing up Lonnie's portion of the gig money! Or the time Marq screamed at a top MTV executive, resulting in all BulletBoys videos forever being pulled from the network! Some potentially explosive stuff that would make for a great follow-up interview, if we can get Marq to talk to us again sometime down the road.
Nevertheless, this 20 Questions with Marq Torien is destined to be remembered as one of the most unlikely accomplishments in Metal Sludge history! Packed with great questions and answers, we found out why the BulletBoys' greatest hits album sounded like shit and how they came up with that terrible title. We also learned a bit about Marq's Motown history and how he started out in a band called Kagny & the Dirty Rats! We even confirmed that Marq played in Ratt from June through October of 1982, thanks to a surprise cameo from Bobby Blotzer! It's been way too long since Metal Sludge has had one of those! We really have to hand it to C.C. Banana for making this interview possible and putting it all together for us. The fact that C.C. called one of Marq's albums a "God-awful piece of dreck" right to his face is downright priceless! We're also impressed that he was able to come up with all those BulletBoys questions on the spot like that. Maybe the foam of his banana suit is like a big sponge that soaks up all sorts of useless trivia. Who knows? The Banana has actually been wrangling up some great names for us lately, several of whom we figured we'd never see on Metal Sludge again! So kudos to the big fruit for all his hard work! And of course, a great big Sludgeaholic thank-you to Marq Torien for letting a man in a banana suit ask him insulting questions and for being cool enough to roll with the punches. After all these years of making fun of the man, it's nice to know that Marq is able to have a sense of humor about it all.
Marq said that his new project Ten-Cent Billionaires should be hitting sometime in the near future, so keep an eye out for that. He also said that the BulletBoys "semi-reunion" would be starting in the summer and running into the fall, even though it's already the end of July and neither Pollstar nor Ticketmaster have any listings for it. Naturally, the long-dormant BulletBoys website lists no such tour dates and even Marq's official MySpace page makes no mention of them. But remember, according to Marq the band still packs the clubs! Gosh, imagine how many people would show up if they actually promoted their appearances for a change!
Who will C.C. Banana interview next as part of his Bananiversary Celebration? He's still not saying. He does tell us that it's someone with a very mixed track record here at Metal Sludge, so color us intrigued. Be sure to come back soon to see what C.C. has in store! In the meantime, below you'll find links to Marq's official website and MySpace pages... but like we said, there ain't much happening there. Anyway, knock yourselves out.
BulletBoys
http://www.BulletBoysRecords.com
http://www.myspace.com/TheBulletBoys
Marq Torien
http://www.myspace.com/MarqTorien
Metal Sludge
Sludge Up In Ya