3-Wind with Eddie Ojeda, 7/30/06
3-WIND WITH...
TWISTED SISTER guitarist EDDIE OJEDA!
Some of you old timers may remember that our very first "worst interview" here at Metal Sludge was submitted by none other than Eddie "Fingers" Ojeda of Twisted Sister. Unlike the hundred or so other interviews we had done by then, Eddie's 20 Questions was absolutely pathetic. He really didn't put any effort into answering the questions and it seemed like he just kind of blew us off. It was so lame that we wondered why he even bothered sending it in. Naturally, this sorry excuse for an interview was voted to be the worst 20 Questions of 2000 in that year's Sludgeaholic Choice Awards. If you'd like to relive this embarrassing moment in Twisted Sister history, you can do so right HERE:
20 Qustions with Eddie Ojeda - 9/5/00
http://www.MetalSludge.tv/home/index.php?option=com_content&task=view&id=213&Itemid=37
However, the following year Eddie redeemed himself by doing a kick-ass Rewind with us! He apologized for his lousy 20 Questions and even explained to us why it was so awful. According to Eddie, he'd assumed our interview was just a big joke since he had never actually heard of us! We weren't sure if we believed him about never having heard of Metal Sludge, but we gave him a pass since he did such a good job with his answers that time. Not good enough to win Best Rewind in that year's Sludgeaholic Choice Awards, but it was a vast improvement over his first effort. If you'd like to see what Eddie had to say for himself the second time around, you can do so right HERE:
Rewind with Eddie Ojeda - 11/1/01
http://www.MetalSludge.tv/home/index.php?option=com_content&task=view&id=278&Itemid=37
Anyway, here it is almost 5 years later and Eddie has returned for his official Metal Sludge 3-Wind! Here to explain how this all went down is our crack correspondent C.C. Banana! As with the Banana's great Rewind with Jeff LaBar and his mind-boggling 20 Questions with Marq Torien, the following interview with Eddie Ojdea is part of his month-long Bananiversary Celebration, commemorating 5 fruitful years of harassing musicians and other celebrities! Take it away, C.C.!
Under the Peel
My thanks to Metal Sludge for helping to spread the word about my momentous Bananiversary Celebration, a star-studded salute to the fabulous fruit! Throughout the month of July, I'll be commemorating the anniversary of my debut by releasing a series of brand new interviews with some of my favorite rock stars!
For my third interview of the month, I present to you the following 3-Wind with Eddie Ojeda of Twisted Sister. I knew that Eddie would be appearing at the local Kiss Expo in May so I wrote up a bunch of questions and hoped he'd be game for a chat. Thankfully, Eddie was kind enough to set aside some time at the end of his appearance to address the Sludgeaholics for a third triumphant time! By now Eddie is an old pro at these Metal Sludge interviews and as such, nothing I asked seemed to phase him in the least! Still, he came prepared with some good stories to share so I hope you enjoy our exchange.
And don't forget to come back soon for the exciting final installment of my Bananiversary Celebration!
C.C. Banana
http://www.CCBanana.com
http://www.myspace.com/CCBanana
That damn Banana has really been on fire lately. 3 interviews in 3 weeks with the promise of 1 more before he's through! Doesn't he ever sleep? C.C. is probably overdue for some much-needed rest but we're glad he's so determined to bring us 4 straight weeks of brand-new material. In addition to the interviews, C.C. is also busy making a bunch of live, radio and podcast appearances in conjunction with his Bananiversary Celebration, which you can learn about in his Bananiversary Blog. Folks, we couldn't make this stuff up if we tried. Anyway, as for Eddie Ojeda...
Word is that Twisted Sister is winding down their reunion appearances so these days Eddie is talking up a few projects of his own, including a new solo album and guitar instructional video. As C.C. Banana said, this interview was conducted at the NY/NJ area Kiss Expo on May 6, 2006. We're not quite sure why Eddie was a guest at a convention for a band he was never actually in, but that's not for us to judge. Our job is simply to present the following 3-Wind with guitarist Eddie Ojeda!

Twisted Sister for the new millennium!
1. What are you currently up to? This is your one and only chance to plug your shit.
Well, I have a solo CD out now called "Axes 2 Axes." It comes in a digipack with a full-color booklet. These are expensive to make and it costs me a lot to bring this to you. This is not cheap shit! But I'm willing to take less to bring the fans a quality package. I also have a new instructional DVD available, featuring 4 Twisted Sister songs. And of course, Twisted Sister itself is still together and touring. This summer we'll be heading to Europe and playing the festivals there, as we've been doing for the past several years. We just played Las Vegas last weekend and we're going to North Carolina at the end of the month. It never stops!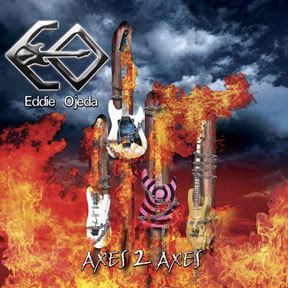 Click on the album cover for photos from Eddie's CD release party in NYC.
(featuring a surprise cameo by a certain yellow fruit)
2. In your last Metal Sludge interview, you told us that you were starting to work on a solo project. That was in November 2001, but the album didn't come out until November 2005! How come it took you 4 whole years to finally release it? Who do you think you are, Def Leppard?
I must have been taking my cue from those guys! Wow, I hadn't realized I'd said that 4 years ago. I guess maybe I was thinking about it then, but it wasn't until last year that I finally got it all together. I started the album in 2005 and I finished it in 2005. Once I'd started, it only took about 8 months. Naturally, getting started was the hardest part. But wow, I hadn't realized I'd said that 4 years ago!
3. Your solo album features guest vocals from Dee Snider, Joe Lynn Turner and Ronnie James Dio, but it also features 5 songs sung by you (and they actually don't suck). How come you've been keeping your singing skills a secret for so long? Was it weird cutting the lead vocal on an album for a change?
Yes, it was definitely a little weird! Singing was not something I'd expected to do on this album. I'd originally wanted to get more guest vocalists, but since there wasn't time I just decided to sing the stuff myself. It was actually good having guys like Ronnie and Dee and Joe on board because they definitely raised the bar and made me work harder as a singer. Especially since I'm not really a singer! I'm a guitar player. So I think they pushed me to do a better job. Overall, I was pretty happy with it and I appreciate that you like it.
4. Way back in September 2000 we posted your original 20 Questions, overwhelmingly voted by Metal Sludge readers as one of the worst interviews they'd ever read. You came up with stupid answers for most of the questions and just ignored the rest. It was so bad that even though you sent it to us in October 1999, we sat on it for a whole year and only posted it because we hit a slow news day. We don't really have a question here, we just wanted to razz you about it one more time.
Thank you! Yes, it sucked. Although some people thought it was hilarious. When I first got the 20 Questions in my e-mail, I just thought that somebody was fucking with me! "This can't be for real! This is a joke!" I thought somebody was just busting my balls so I answered with whatever came into my head. There was a question asking about what I'd been doing lately, so I said that I was selling wheelchairs to little old ladies and stuff like that. It was just an obnoxious interview because I didn't realize it was serious!
Then I started getting all these phone calls and e-mails from people saying, "Man, that website really slammed you!" So I asked, "What website?" That's when I found out about Metal Sludge! I guess I should have checked first to see if it was legitimate. But I did apologize and I made up for it in my Rewind, which was an excellent interview! Much better than my first one, which only used that one picture! And it was the worst one you could find!
So for the record: Eddie Ojeda never sold wheelchairs to little old ladies?
No, I never did.

The worst photo of Eddie Ojeda we could find.
5. Out of all the bands Twisted Sister has ever toured or worked with, who were the coolest and who were the biggest dicks?
I'd have say that Iron Maiden was definitely one of the coolest. We had a long tour with them and they were all really good guys. They bent over backwards to make everything great for us. It was definitely one of the most exciting tours for me.
Beyond that, we always got along well with everybody we toured with so I really can't say anything bad about any of them. Dokken and Y&T and Lita Ford... we did a lot of great shows with them all.
6. In November 2001, Twisted Sister reunited to headline the 9/11 benefit concert known as New York Steel. How was the band able to work together as a team after so many years apart, and how close did you all come to beating the crap out of each other before you even hit the stage?
Actually, when we got back together it was quite pleasant. Maybe not the first couple of rehearsals, of course! Those were a little awkward. But then we started joking around and having a great time and before you knew it, everybody was getting along. It was like, "Wow, we kind of like each other again!" At first we thought it was going to be really hard, but fortunately nothing too unforgivable had ever happened between us. Nobody had ever slept with somebody else's wife or anything like that. With us, it was always just the stupid little shit that got in the way. So we actually got along pretty well and we realized that we all still liked each other.

Twisted Sister reunites for New York Steel!
Five years later, is anybody in particular getting on your nerves?
Oh, definitely! I don't want to mention anyone by name...
You know, the stupid little shit just starts coming up again. But we're a lot more mature now so we just blow it off. We know that we all have our little personality flaws. I even have a few myself! Hard to believe, I'm such a nice guy! But by and large, it's all good.
7. On April 29, 2003 Twisted Sister officially announced their reunion by taking a cue from Kiss and holding a press conference on the U.S.S. Intrepid. Which of the following was more embarrassing -- the fact that President Bush erroneously declared victory in Iraq mere days later, or that your planned tour for the troops overseas ended up being cut short as a result?
Actually, the tour wasn't cut short. It was just a short tour! We were only scheduled to play 3 shows. So I guess it was more embarrassing for President Bush than for Twisted Sister. We went over there with the USO and played at 3 U.S. Army camps in Korea. And the response from the troops was simply amazing. They're usually happy to have just anybody go over to perform for them, but they were ecstatic to have Twisted Sister! So that was cool. We actually flew to the gigs in Chinooks.
Excuse me?
I'm not calling you a schnook, that's just the name of the helicopters we flew in. And it was dangerous! There was actually another Chinook following ours. I asked our guide, "Why is that one following us?" He said, "In case we go down!" So that was comforting. But yeah, playing for the troops was a great experience.
8. Two nights before the reunion press conference, Twisted Sister played a surprise gig at Tuxedo Junction in Danbury, CT, where you performed in the classic Twisted Sister make-up and costumes for the first time since the 1980s. Did wearing that stuff after so many years make you feel all girly again? And why won't Mark Mendoza wear anything but that vest with the furry brown shoulder pads?
Well, the stuff we wear has never made me feel girly. I'm a very secure heterosexual! As for why Mark won't wear anything but those furry shoulder pads... I try not to look in that direction! It's bad enough that he plays so loud, I don't want to have to look at him, too! But I honestly have no idea why he only wears those shoulder pads made of fur. I guess he just likes the way it feels!
It's very Alexis Carrington, if you ask me.

Mark "The Animal" Mendoza expresses his displeasure at being compared to Joan Collins in "Dynasty."
(image courtesy JerryAngelicaPhotography.com)
9. Instead of recording a reunion album, Twisted Sister instead chose to re-record one of its old albums! Were you guys really that hard up for new material? What makes "Still Hungry" better than "Stay Hungry" and how many copies has it actually sold?
I'm not sure how many copies it's actually sold, but I guess it's doing okay. Thanks for pointing that out to me, I need to look into that! For whatever reason, we just didn't want to get into writing new stuff. We recorded that album mostly because we had always wanted to redo "Stay Hungry" with bigger, heavier production. Plus, we had a couple of songs that we'd never completed and we wanted to put those on the album, too. So it was a little bit of both. "Stay Hungry" has such a history and it's such a favorite for so many people. We knew we couldn't recreate a classic and we didn't necessarily try to make it better, it's just a different take on the same material.
By the way, did you hear that Pink Floyd is going to redo "Dark Side of the Moon?"
Really? What's it going to be called?
"The Darker Side of the Moon!"
Wow!
Actually, it's going to be called "The Dark Side of the Moon is Still Dark."
We can't be sure, but the very next sound on the tape would appear to be crickets chirping.
10. What do you remember most about writing or recording the following songs:
S.M.F. =

We did that in California at Lakeland Studios. In fact, Quincy Jones was recording in one of the other rooms and Michael Jackson showed up! I missed him but Dee got to talk to him.
Did he bring the chimp?
I don't know! He came in the back way so I didn't see him. But I think he had some Church's fried chicken with him. And I mean nothing ethnic by that! It has nothing to do with Michael Jackson being a white woman.
I Wanna Rock =

That was also done in California. A good memory of that song would be getting ready to record the solo, then hearing lots of noise and stuff coming from the amplifier. I was using 2 different amps and it sounded like a Boeing 707 taking off! But the song turned out good anyway. At first I did the lead straight, but then our producer Tom Werman said, "Hey, you should use a wah-wah pedal." And I did it in one take! So that was a fun.
Did Michael Jackson show up for that, too?
No, Michael Jackson wasn't there for that.
I'll Never Grow Up, Now! =

We recorded that one in California, as well. It was fun getting the whole group to come in and sing a gang vocal on that. That's the most vivid memory I have of that song.
Wake Up (The Sleeping Giant) =

That one was done in New York. We recorded that album in Atlantic Studios on 60th St. and Broadway! "Love is for Suckers" was a fun record to make. I even worked with Reb Beach doing some rhythm stuff on that one. That was a very polished record for us, whereas "Stay Hungry" and "Come Out and Play" were a little more raw. Our producer Beau Hill made us sound a little extra slick but I'm happy with the way it came out.
The Fire Still Burns =

Okay, that's a great song! The words have a lot of meaning for us, especially now. It's a regular part of our set these days and the song just kicks ass! It has a pummeling kind of Iron Maiden feel to it. We recorded the basic tracks in New York and then finished everything in L.A. This was with producer Dieter Dierks for the "Come Out and Play" album. I remember Dieter being very happy with the solo I came up with for that song. You know, I'm amazed that I'm actually remembering all this shit!
Leader of the Pack =

That one was also finished in California. The video was fun to make, with the all motorcycles and stuff. I thought it was a cool song to do but for some reason the rest of the world just didn't get it. Unfortunately for us! But we liked it.

Leaders of the Pack!
Heroes Are Hard to Find =

That was the first song we did when we first got back together as a band in the late 1990s. Dee had asked us to record it for the soundtrack of his movie "Strangeland," so we all got together and started rehearsing. Although the funny thing was that we were never all in the studio at the same time... for some reason! I think there were also a few rehearsals where some of us weren't there. Even when we finally recorded the song in the studio, it was done in bits and pieces. I think the drums and bass were done separately, then I came in, then Jay Jay... we did the whole thing like that. So for that whole period, we were never in the same place at the same time. What a weird coincidence, huh? But the song did turn out okay, so maybe it was better that we weren't all in the same room together!
Blastin' Fast & Loud =

That was an old song that was originally supposed to be on "Stay Hungry," but we just never finished it. Then when we got back together and put out the two "Club Daze" compilation CDs, we wanted to add some bonus tracks. So we finished up that song downtown at Delancey Street, which was fun because parking down there was a bitch! That song is definitely a New York City recording.
Senorita Knows =

That's from my solo album. It's a song I wrote a long, long time ago. I knew it wasn't right for Twisted Sister but I always figured I'd record it if I ever did a solo album. Originally, it was more of an acoustic song but I ended up making it heavier to gel with the rest of the record. A lot of people really seem to like that song. Especially the girls, you know? To me, a good song doesn't get dated so I'm glad I finally got to record it on an album.
Living Free =

Also from my solo album, Joe Lynn Turner sings on that. It's one of the last songs I wrote for the album. I started off with the one riff and then it just came together, little by little. We recorded the vocals on 22nd St. at Joe Franco's Beat Street studio. It was cool having him sing my words and hearing the song take on a life of its own. That was a great experience for me.

Eddie Ojeda, Joe Franco and VH1 Metal Expert John Ostronomy
(image courtesy TalkingMetal.com)
11. What were you doing to support yourself and keep yourself busy between the Twisted Sister break-up and the recent reunion?
I was working with my brother. He's a computer consultant and he has his own business. So I was just working with him and busting my ass 12 to 15 hours a day. Doing a lot of computer work, setting up systems and things like that. If a guitar player is gonna get a regular job, it's got to be something where he uses his fingers! Plus with computers, you don't have to lift anything! We had other guys to do the wiring and all the manual stuff, so all I had to do was come in and do things on the keyboard. I do love working with computers but ultimately it was just another day job. After awhile I realized, "Wow, this is a lot of work!" But it was fun because I liked the technology and it was a good learning experience.
I was also playing with a cover band called Visione. We played mostly on the weekends, doing a lot of private parties, corporate gigs and stuff like that. So I still kept in touch with the music.
12. You are famous for your trademark bull's eye guitar, but has that design ever backfired on you? Has anybody in the audience ever tried to throw stuff at it or has Ted Nugent ever tried to use it for target practice?
Well, there was that time we were performing at Donnington. I think I dodged an apple or something! That place is known for people just chucking stuff at the bands. They throw stuff at everybody! They threw stuff at Meatloaf, they threw stuff at ZZ Top... anyone who got onstage. There are 40,000 people in the audience and at any given time, 10,000 of them don't like the band. So they bring extra fruit!
I know the feeling.

Watch out for that apple, Eddie!
There's that famous story that Dee told about Donnington in our episode of "Behind the Music." We had a Scottish roadie working for us and he said, "Hey man, somebody threw a piece of shite on the stage!" And we didn't know what he meant. "A shite, man! A shite!" So we asked him, "What's a shite?" So he said, "A SHIT, man! Somebody threw a piece of SHIT!"
So Dee made that great comment about, "How much do you have to hate a band to throw shit at them? And when you do, where do you get it from? Do you ask your friend to pile one in your hand? Or do you do it yourself?" But that's Donnington for you, they always throw stuff at the stage. Although I don't think it had anything to do with my bull's eye!
What about Zakk Wylde's bull's eye guitar? Are you upset that he stole your gimmick?
Well, I'm certainly not upset but I was kind of surprised. That bull's eye guitar is just so synonymous with Twisted Sister. I've even seen people who've gotten it as a tattoo! So I was a little surprised when Zakk chose to do that. But I guess he thought it would be okay since Twisted Sister was broken up at the time. Plus, his is a Les Paul and mine is a Strat. I've never talked to Zakk about it, but I'm curious to find out.

Homage or theft? You decide!
13. In your last interview with us you said that you had decided against doing a guitar instructional video, yet now you've come out with "Eddie Ojeda: Twisted Method," giving fans "an up-close and personal look into your rockin' riffs and blazing solos" (according to the press release). What makes your instructional video unique and how much cash did they have to throw at you to get you to change your mind?
Well, I never said never! At the time I was against the idea because there were just so many of those videos on the market, you know? The world didn't really need another electric heavy metal guitar instructional video. But when Music Star Productions approached me, they had the idea of taking the Twisted Sister songs and breaking them down and doing them in pieces. It was more like an intermediate to advanced instructional video where I could just play the songs instead of sitting there and doing scales. They even did the tablature and stuff. And that whole approach was just more interesting to me. I remember when I was learning to play guitar, it was a lot more fun to learn actual songs than to sit there and go through all the exercises and all the boring stuff.
14. What's the deal with Bent Brother, the so-called Twisted Sister tribute band that actually features all the members of Twisted Sister? Is that for days when it's just too much work to put on the make-up and squeeze into the spandex?
That's definitely part of it. It's also good around Christmas time when we need a little extra dough! Plus we can perform in clubs and more intimate venues like that. It's nice because we can just come in and play without the hassle of getting into costume, you know? Like we just walked in right off the street! People seem to dig it.
15. In an interview with us last year, Eric Brittingham of Cinderella said that he once worked with you on a song for an Ace Frehley tribute album! The track was to have featured you, Eric, Sebastian Bach and Rob Affuso but for some reason the label chose not to include it on the CD. What song was this and how bad could it have been that they refused to release it?
The song was "Shock Me" and it actually turned out really well. However, there was a disagreement between Sebastian and the producer of the record. At a certain point, Bas called me to say that they were not going to be using the song. I think that maybe the producer wasn't happy with the mix or something. But I don't know what he expected, it was pretty much dead-on to the original. Sebastian was happy with it and he sang great on it and I did the solo pretty much note for note. But we still got paid for the session and we had a fun time doing it.
16. Name 3 high points and 3 low points of your career thus far.
I guess my first high point was getting that first gold record. Then my second high point was getting a platinum record! And my third high point was getting a triple platinum record! They gave me those instead of cash! Which I guess qualifies as the low points -- getting all those records but not getting any money!

Speaking of low points...
Does the above photo depict Eddie Ojeda working as a short order cook at a gay bar & grill? Not quite. Instead, it captures Eddie suiting up for some sort of flying ride at Six Flags Great Adventure (which is only marginally better). Either way, don't ask us how we got ahold of this picture.
17. In 2005, Twisted Sister released a home video called "Live at Wacken: The Reunion" that was part concert and part documentary. Why was the Wacken gig chosen as the concert to release and what other stuff is included on the DVD?
Basically, we wanted to release a live video that wasn't just a live concert. I think people enjoy watching interviews and other behind-the-scenes stuff, so we made sure to put some of that in there. Then we cut back and forth between the live footage and the band talking about the different songs, which I think makes for a more interesting video.
The Wacken gig was just such an amazing night. That was the first time since our reunion that we'd performed at such a big event, with 40,000 people and the fire and all that. We've never used a lot of pyro in our shows but for that gig we had a lot of great effects. Plus, the band was really great that night. You always hope for the best but you just never know, especially when you're playing in front of tens of thousands of people! Fortunately, we all played well and the crowd was amazing and the weather was great and everything was just perfect. It was just one of those magical moments and I'm glad we were able to get it all on video.
18. A few years ago Dee Snider pulled a Gene Simmons move by marketing a Halloween costume of himself. Which would be scarier as a follow-up: an Eddie Ojeda costume or an A.J. Pero costume?
I would definitely have to say an A.J. Pero costume! Sorry, bro!
I was actually kind of surprised to learn that Dee had done that! I only found out about it when I was at the mall and I saw him there doing a little promo thing. I walked up to him and said, "What's up, Dee?" Then I looked over and I saw a guy standing next to him, dressed just like him! So I asked the real Dee what was going on and that's when he told me that he had a Halloween costume.

The Dee Snider Halloween costume
It's amazing because even before Dee started selling the costume, I'd been to Halloween parties where people were dressed as him! Even though you always see people dressed up as the Kiss guys, people also really seem to love the Dee character. It's probably because he's the most animated and recognizable member of the band, with the face and the hair and everything.
Have you ever worn the Dee Snider Halloween costume?
No, I haven't. And I don't think I ever will!
19. Which do you prefer and why?
Eddie Vedder or Eddie Munster =

Definitely Eddie Munster!


Baba O'Riley or Bill O'Reilly =

Um... Bill O'Reilly.


Potato Salad or Caesar Salad =

Uh... is this really important?

Not at all.

Caesar salad.


Duran Duran or Danger Danger =

Definitely Danger Danger!


Widowmaker or Desperado =

Oh, trick question! Um, I think I liked Widowmaker a little better.


Records or CDs =

Well, CDs make life a lot easier but I definitely miss records. The warmth of the sound, holding it in your hands, being able to read the liner notes without a fucking magnifying glass. So yeah, I do miss records.


Entertainment Tonight or Access Hollywood =

Those are the shows that I can't flip past fast enough.

So what do you watch at 7:30 PM on weeknights?

"Seinfeld!"


Dick York or Dick Sargent =

Dick York, man! He's my favorite Dick! When they changed Darrins on me, it had a profound effect on my life!


Bed, Bath or Beyond =

Uh... Beyond.

What's in the Beyond section?

Stuff you can't get anywhere else!


Big Soft Boobs or Small Perky Titties =

Um... how about something in between?
20. Just two days ago, you shot a video for your cover of "Eleanor Rigby" from your solo album. The song features Dee Snider on vocals and the video was shot at some old castle on Long Island. But even with all this cool stuff going for it, where do you think this video will receive airplay in 2006? Wouldn't it be easier to just throw your money off a bridge somewhere?
Wow! First of all, I'm not paying for the video myself so it's not costing me anything! Some friends of mine are filmmakers and they volunteered to do this for me. Bee Harris Productions in Yonkers. They're doing a great job so we'll see what happens with it. I think when it's done, it's gonna be pretty amazing. Personally, I don't care if MTV or VH1 or anybody else ever plays it. If I only get to watch it at home in my living room, that's okay because it's something that I did and I can be proud of it. Having said that, I definitely think they'll play the video in Europe.
Can I have a cameo?
Uhhh... no.
21. Twisted Sister played what they claimed to be their "final area appearance" in Montclair, NJ on August 21, 2005. Then on November 26, 2005 they played another "final area appearance" in nearby Poughkeepsie, NY. And on December 16, 2005 they played yet another "final area appearance" at the Starland Ballroom in Sayreville, NJ. Plus, the Twisted Sister website lists a bunch of dates for 2006. Not that we're trying to get rid of you or anything, but exactly how many more "final area appearances" does the band plan on making?
Well, according to The Who you can keep doing that forever! In our case, Dee said that the Montclair gig would be the final New Jersey appearance for Twisted Sister. He made that announcement during the show itself! I didn't even know, that's how we all found out! We were all onstage looking at each other like, "This is our final New Jersey appearance?" So I asked Dee if this really was our final New Jersey appearance and he said, "It is for me!" So I thought, "Okay, I guess we're not playing Jersey anymore."
As for Poughkeepsie, well... that's in New York!
Then when we played New Jersey again in December at the Starland Ballroom in Sayreville, that was actually billed as Bent Brother. We never said that Bent Brother was retiring. Bent Brother can still play anywhere!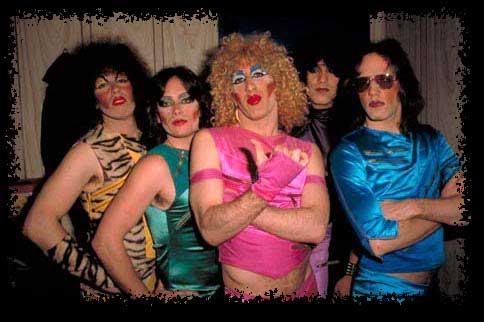 The band that would become Bent Brother
22. The Last of Eddie Ojeda:
Last CD you listened to =

AC/DC's "High Voltage."


Last concert you watched from the audience =

The tribute band Almost Queen.


Last time you ate with Chris McCarvill =

We had dinner together in December.


Last time you heard Sebastian Bach say "Mothertrucker" =

The last time we performed with him, so November of 2005.


Last time you were at Kevin Dubrow's house =

Wow... um... 1984. Right after recording the Hear'n Aid song. It was me, George Lynch, Rudy Sarzo... a whole bunch of us went over to Kevin's house. We all just drank and hung out that day. Nice place!


Last time you ate at a Wendy's =

This afternoon, I had a salad.


Last time you spoke to Nikki Sixx =

About 8 years ago. We talked about one of the Motley records.


Last time you heard a song on the radio that you really liked =

Um... wow. I can't really pin that one down, it's just been so long. That's why I'm listening to the old AC/DC stuff.


Last time somebody confused you with Fingers the DJ from WBAB =

That's got to be more than 10 years ago.


Last time you were interviewed by a handsome piece of fruit =

A handsome one? Never!
Oh, he got me!
But you do have a lot of a-peel!
Eddie Ojeda, ladies and gentlemen!
Hey, that was pretty cool! Eddie actually took a shot at the Banana there at the very end. Way to go, Eddie!
Well Sludgeaholics, that wraps up our 3-Wind with Eddie "Fingers" Ojeda of Twisted Sister. There wasn't a whole lot of smack talk or anything else controversial, but it's always nice to check in with a true rock veteran like Eddie. As C.C. Banana pointed out, he asked the usual assortment insulting questions but Eddie was so cool that they rolled right off his back! Still, we did learn that the only way Twisted Sister was able to record their reunion song was by avoiding each other the whole time, which is actually pretty funny. We also learned that it was Sebastian Bach's disagreement with a producer that kept Eddie's cover of "Shock Me" from appearing on that Kiss tribute album. Honestly, is anybody really surprised by this kind of news anymore? Other fun Ojeda trivia included his enjoyment of "Seinfeld," his preference for Dick #1 over Dick #2 and his contention that Michael Jackson likes Church's fried chicken. Plus, we discovered that even though Eddie is apparently good at dodging apples, he is not quite so skilled at avoiding bananas.
Interestingly, it seems that Eddie may have let slip the way in which Twisted Sister could continue to perform after they play all their so-called "final area appearances." Maybe Gene Simmons and Paul Stanley can try something like that if they ever want to play a show after they've already replaced everyone in Kiss with robots or clones or whatever they keep threatening to do. Eddie also said that the music video from his solo album should be finished soon, so keep an eye out for that.
In closing, we'd like to thank Eddie Ojeda for taking the time to pay us another visit here at Metal Sludge and for letting us rank on him one more time for that terrible 20 Questions from 6 years ago. Let's face it, that shit never gets old. Additionally, we'd like to thank Kiss Expo proprietor (and famed Starz guitarist) Richie Ranno for letting C.C. Banana do his thing at this year's event. C.C. also wanted us to thank his Sludgette assistant DefLepChick (a.k.a. Tara) for being his photographer, security aid and all-around pack mule on the day of this interview. In fact, here she is now posing with the guest of honor himself! Next time remember to wear your Sludgendise, Tara!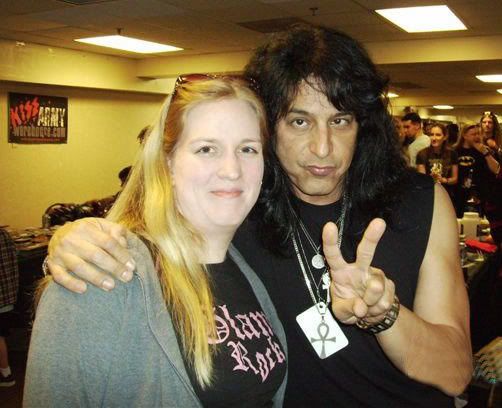 Sludgette DefLepChick (a.k.a. Tara) meets Eddie Ojeda!
Be sure to ask Tara about the first time she met Eddie at The Rainbow in L.A.!
As for C.C. Banana...
Even though the Carmen Electra calendar on our wall is telling us that the Bananiversary Celebration is quickly coming to an end, C.C. has promised to return soon with his fourth and final interview of the month! The Banana has been reliably cranking out great new Metal Sludge interviews at a rate of one per week throughout most of July, which we realize is a pretty grueling pace for anyone (even a superhuman fruit like him). We're grateful to have the Banana on board and we are genuinely impressed by how much he's been able to accomplish over the past few weeks, let alone the past 5 years! So go to his website and buy a T-shirt or something so he can afford to keep working on shit like this. Otherwise he might need to resort to getting a real job and he wouldn't have time to stalk rock stars for us anymore.
Anyway, come back soon to find out how C.C. wraps up his big event and discover which rock star has the distinction of helping him bring it all home! Until then, go say hello to Eddie Ojeda at any of the following links below.
Eddie Ojeda
http://www.EddieOjeda.com
http://www.myspace.com/EddieOjeda
Twisted Sister
http://www.TwistedSister.com
http://www.myspace.com/TwistedSister
Metal Sludge
You Can't Sludge Rock 'N' Roll