C.C. Banana Guest Stars on "Talking Metal on Fuse," 3/10/08
C.C. BANANA GUEST STARS ON "TALKING METAL ON FUSE!"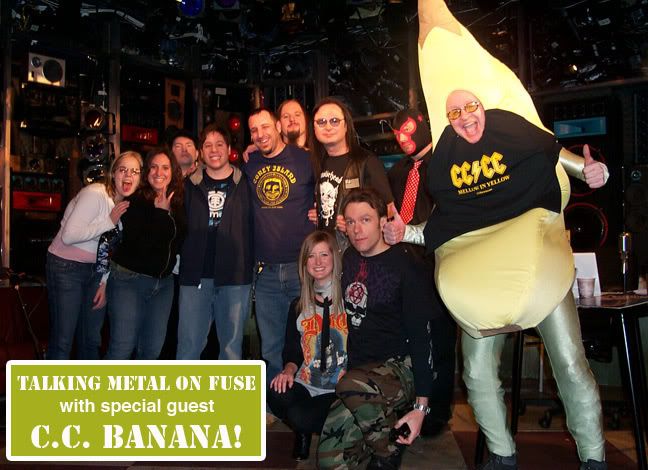 Just when you thought the writers' strike had pretty much ruined the current TV season, along comes something to make it all better.

For a man whose primary claim to fame is shouting wiseass remarks at rock stars while dressed as a piece of fruit, C.C. Banana has actually managed to make something of a name for himself. C.C. just informed us that this Friday, March 14th at midnight (or 9:00 PM for all you West Coast Sludgeaholics) he'll be making a guest appearance on the new TV show "Talking Metal on fuse." And yes, we realize that we didn't capitalize the "F" in "fuse," but that's how their name is spelled. So if you don't like it, then "F" you! Besides, the important thing is that the one and only C.C. Banana is about to invade your television screens!

For those of you who haven't yet seen the show, it's more or less a TV version of the popular Talking Metal podcast. Hosts John Ostronomy and Mark Strigl started out as the so-called "metal experts" from VH1's "100 Most Metal Moments" countdown a few years ago (something we gave them a hard time about back then). But it looks like they may have had the last laugh because they somehow got their own TV series out of it. "Talking Metal on fuse" also features guitarist "Metal" Mike Chlasciak as music director (of sorts) and some comedian dude in a wrestling mask named Bud Friendly, along with a string of big-name guests like Rob Halford, Ozzy Osbourne, Dave Mustaine, Nikki Sixx and Kerry King. The episode with C.C. Banana is scheduled to include appearances by Mike Patton and Don Dokken, so the Banana probably had plenty of material to work with.

Anyway, here he is now to tell us more about it.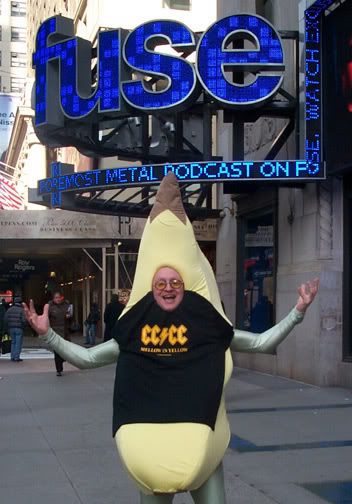 Heads up, Metal Sludge!

Be sure to tune in to the (non-capitalized) fuse network this weekend for a delicious dose of the fabulous fruit! That's right, yours truly will be sitting in as guest commentator on the cool new show "Talking Metal on fuse!" Though I can't remember exactly what I said during the taping that day, I vaguely recall discussing the hygiene of Lemmy Kilmister, praising Don Dokken's unmussable hair and hitting on Mark Strigl's wife… beyond that, it's all a blur. Despite the fact that the shoot lasted nearly three hours, the broadcast episode will run only 30 minutes so I'm hoping that some of my contributions end up making the cut. In a happy coincidence, the episode is scheduled to premiere on Friday, March 14th at midnight, making the airdate technically March 15th... or in other words, my birthday! How cool is that?

Furthermore, let's not forget that this particular Ides of March also marks the 1st birthday of little Vallon DeVille Johannesson... that's right, C.C. DeVille's kid! Can you believe it? C.C. somehow managed to arrange for his official offspring to have the same birthday as his unofficial one! Go figure, eh? Best wishes to my new birthday buddy from his lovable ol' Uncle Banana!

Everyone else, go set those TiVos for Friday, March 14th at midnight and get ready to toast your favorite fruit!

Birthday Banana
http://www.CCBanana.com
http://www.myspace.com/CCBanana
Wait a minute... did the Banana just say that C.C. DeVille's kid was actually born on his birthday? Okay, now that's weird. Seriously, that is just fucking bizarre. That should really be a Ripley's Believe It Or Not or something. DeVille will probably be kicking himself over this for the rest of his life. Throw in the fact that his kid also shares a birthday with Bret Michaels and it's a wonder he hasn't shot himself in the head already.

We've got to admit though, for something that started out as a joke, C.C. Banana has actually been making a slow but steady climb through the entertainment ranks. Naturally, it all started right here at Metal Sludge with that very first story about him dressing up in a banana suit and impersonating C.C. DeVille. That eventually led us to invite him to host a portion of our original Metal Sludge Extravaganza Tour in 2003. That same year C.C. issued his infamous "Backstage Banana" home video, in which he harassed and interviewed the members of Winger, Cinderella and Poison. A few months later he got the invite to open for comedian Craig Gass, which even garnered him a few plugs on The Howard Stern Show. Sometime thereafter, C.C. would make the first of several guest appearances on Sirius Satellite Radio. Along the way he's been profiled in such notable publications as Classic Rock magazine, The Aquarian and New York Press. At last year's New York Comic Con, the Banana was interviewed by Heavy News, IGN and MTV. About a year ago, C.C. had a cameo in the season premiere of "Gene Simmons Family Jewels" and last summer he made a brief but memorable on-camera appearance on the Sci-Fi Channel reality series "Who Wants to Be a Superhero?" There are probably a few others we're forgetting about, but you get the idea. We do know that C.C. Banana shot an appearance for one of those VH1 countdown shows awhile back, but we're not sure what ever happened with that. Regardless, this guest slot on fuse is clearly the Banana's biggest TV appearance to date and we at Metal Sludge are proud of the big yellow freak.

Anyway, here are a few more preview images from C.C. Banana's visit to the set of "Talking Metal on fuse," to tide you over until the episode premieres on Friday, March 14 at midnight (again, 9:00 PM for those of you on the west coast).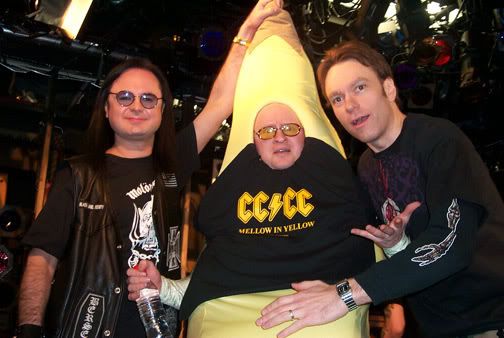 Talking Metal hosts John Ostronomy and Mark Strigl getting a little too friendly with C.C. Banana on the set!
C.C. Banana and "Metal" Mike!
(seemingly in a reenactment of C.C.'s
legendary showdown
with Sebastian Bach)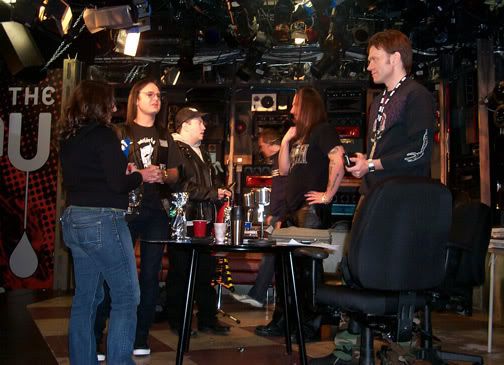 The Talking Metal crew discusses the best way to light Don Dokken's "unmussable hair."
Hey, wait a minute... where'd the Banana go?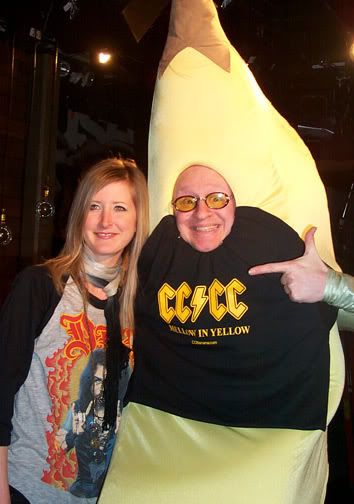 That's right, he's putting the moves on Mark's wife again! 'attaboy, ya big fruit!
By the way... is that a new banana suit you're wearing?
Okay Sludgeaholics, that's all you get for now! If you want to see how it all turned out, you'll need to watch the next episode of "Talking Metal on fuse" this
Friday, March 14th at midnight
... which is technically March 15th, as C.C. Banana pointed out, making it officially his birthday. So even though this year's festivities won't include another
live performance by White Lion and Enuff Z'Nuff
, let's all help C.C. celebrate by tuning in to his big TV appearance!
UPDATE!
For those of you who were too lazy to check out the show that night (and who missed its many repeat airings), we've updated the article with some frame grabs from the broadcast. Yeah, we're good like that sometimes, so don't say we never do anything for you!
The opening sequence for "Talking Metal on fuse,"
featuring Mark Strigl, John Ostronomy and a giant set of (seemingly British) teeth.
Hosts John and Mark kick off the episode with the traditional Talking Metal toast!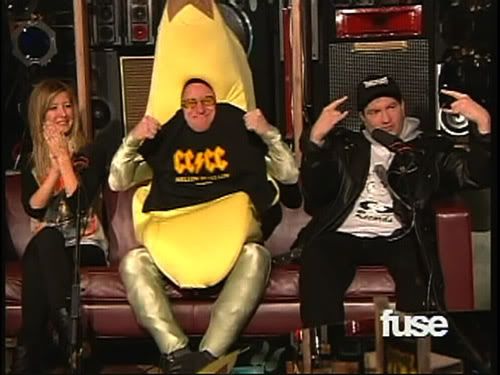 C.C. Banana is introduced along with fellow guests Emily Strigl and Gary Vosganian of the band Maelstrom. After all these years, this may be the first photographic evidence that C.C. can actually sit while wearing his banana suit!
C.C. Banana announces his involvement in the upcoming tribute album
"KISS MY ANKH: A Tribute To Vinnie Vincent!"
Most people apparently thought C.C. was making this up, but it turns out it's a real album and it's coming out this summer! Follow the link above for more on this unlikely project, including a sample of C.C. Banana singing an
outrageous song parody of "Unholy!"
We shit you not, you have to hear this to believe it!
C.C. Banana does his uncanny impression of the "Talking Metal on fuse" mouth logo!

In order to prevent the lens from shattering, the camera pulls back to a comfortable wide shot of the "Talking Metal on fuse" cast, including "Metal" Mike Chlasciak and Bud Friendly!
For reasons unknown, C.C. Banana offers his insights into the career of Mike Patton.

If by now you still find yourself craving one last dose of banana insanity, below is a video clip featuring a portion of C.C.'s appearance on the show. Be forewarned: prolonged exposure to his nasal drone is not for the faint of heart!
Alright, you get the idea by now. Our banana boy was on TV and it seemed to go pretty well for him. So congrats again to C.C. for getting his yellow mug seen by America and for snagging a spot on that bizarre Kiss tribute album. Seriously, you need to check out his version of "Unholy" because it simply defies explanation! Hopefully we'll still be able to get C.C. to do some new interviews for us after this, since by now his head is probably getting too big for his banana. Anyway, we'll have to see what happens.
To find out more about the world of Talking Metal, check out any of the links below.
Talking Metal podcast
http://www.TalkingMetal.com
http://www.myspace.com/TalkingMetal
Talking Metal on fuse
http://www.fuse.tv/ontv/shows/talking-metal
http://www.myspace.com/fuseTalkingMetal
Metal Sludge
Talking Metal, Talking Sludge