Rewind with Frankie Banali, 8/7/06
REWIND WITH...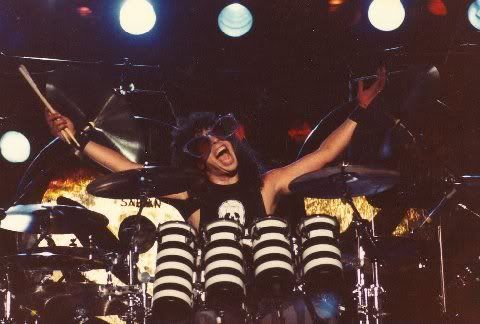 QUIET RIOT drummer FRANKIE BANALI!
Metal Sludge has had a long and rich history of interviewing the various members of Quiet Riot. We did a great 20 Questions with bassist Rudy Sarzo in 2001 and later with his successor Chuck Wright in 2005. Other 20 Questions with replacement Rioters include current guitarist Alex Grossi from early last year and sometime-vocalist Paul Shortino in 2002.
Perhaps not surprisingly, we have heard most often from the most vocal member of Quiet Riot, singer Kevin DuBrow. Kevin first did 20 Questions with us way back in 2000 then later returned for his Rewind in 2001, his 3-Wind in 2003 and his Back-4-More in 2005! Last summer Kevin, Alex and Chuck also appeared in C.C. Banana's big Rock Never Stops Tour feature, in which the fearless fruit interviewed the members of Quiet Riot, Cinderella, Ratt and FireHouse. Interestingly enough, the only member of Quiet Riot the Banana wasn't able to interview at the time was drummer Frankie Banali...
It's been quite awhile since Metal Sludge has officially interviewed the esteemed Mr. B. In fact, it's been so long that Quiet Riot has actually broken up and gotten back together in the time since we last checked in with him! Frankie first did 20 Questions with us on April 10th, 2001 when Quiet Riot was about to release their most recent studio album, "Guilty Pleasures." Frankie then authored a bitchin' Metal Sludge Tour Diary later that summer, chronicling his exploits on the Glam Slam Metal Jam with Poison, Warrant and Enuff Z'Nuff. Though Frankie has popped up occasionally in our Rotten Roundups and did briefly emerge to offer his sage advice in our Ask the Stars column on January 14, 2005, we haven't actually interviewed the man in over 5 years. Well, today our Frankie famine officially ends with a genuine Metal Sludge Rewind with Frankie Banali! How cool is that?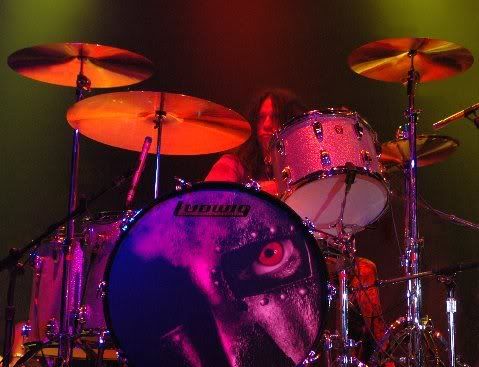 Frankie Banali rocks Las Vegas! (photo courtesy Amy Marteeny)
Naturally, the return of Mr. Banali is made possible thanks to a certain tireless Mr. Banana! It's the last in a series of awesome new interviews C.C. has been contributing as part of his Bananiversary Celebration, commemorating 5 years as the rock & roll fruit. Over the past few weeks, C.C. Banana has offered up a 20 Questions with Marq Torien, a Rewind with Jeff LaBar and a 3-Wind with Eddie Ojeda! It's too bad that Frankie's interview wasn't a Back-4-More or C.C. could have had a complete grand slam! We honestly had our doubts as to whether he'd be able to pull off such a massive undertaking, especially with all the other stuff he had planned for his anniversary event. But one month and 4 great interviews later, we're happy to say that C.C. Banana has somehow survived to see it though to the end!
As usual, the Banana has a few additional details to share, so we'll let him bring them to you in his own yellow words.
Banana + Banali = Bonanza
My thanks to Metal Sludge for helping to spread the word about my momentous Bananiversary Celebration, a star-studded salute to the fabulous fruit! Throughout the month of July, I'll be commemorating the anniversary of my debut by releasing a series of brand new interviews with some of my favorite rock stars!
For my fourth and final interview of the month, I present to you the following Rewind with Frankie Banali of Quiet Riot. Frankie and the band were actually present the day I first came to life during the Poison tour in 2001, so this reunion seemed a fitting way of closing out the commemoration. Additionally, Quiet Riot had been kind enough to allow me to open their show at Jenkinson's Pavilion in Point Pleasant, NJ on July 17th and I wanted to somehow return the favor.
As a Quiet Riot fan for more than half my life, I still vividly recall getting goose bumps upon hearing "Cum On Feel the Noize" in the early 1980s (while youthfully roller skating around the gymnasium of the Franklin Junior High School). Since then I have assembled a comprehensive collection of Quiet Riot albums, singles, imports and promos, including my prized laserdisc copy of their "Bang Thy Head" home video (still sealed in its original shrinkwrap since 1986). Though I would not have the privilege of seeing Quiet Riot in concert until sometime in the next decade (at the Birch Hill nightclub in Old Bridge, NJ) my appreciation of the band and its music has remained a constant.
Needless to say, it was not difficult coming up with enough questions to ask Frankie for his Metal Sludge Rewind (although it was hard whittling down the list to around 20 or so). After scouring the many previous Metal Sludge Quiet Riot features for reference, I ultimately composed the following interview while sitting on the Point Pleasant boardwalk, where earlier that evening I'd beaten out a family of five in a classic boardwalk game of skill (winning some adorable plush banana toys in the process).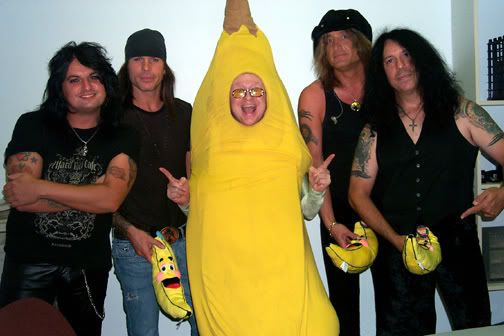 C.C. Banana with Quiet Riot on the night he opened for them in NJ!
(Alex Grossi, Sean McNabb, Kevin DuBrow & Frankie Banali)
Regrettably, there would not be enough time to conduct the interview that same night but Frankie kindly agreed to answer the questions soon after the fact. As such, unlike all previous interviews I've conducted, the following exchange between Banali and Banana took place via e-mail -- an arrangement that also allowed for a few personal contributions from Frankie himself (as you will soon discover).
Before signing off from this Banali finale, I would like to thank everyone for being on board for my exhausting Bananiversary Celebration! After completing 4 feature-length interviews in 4 consecutive weeks (each requiring approximately 60 hours from transcription to publication), I am at last in need of some rest and recuperation! To stave off any potential potassium deficiencies, I recommend that everyone visit my Bananiversary Blog and my official website to sample some of the radio, podcast and newspaper appearances I've made over the past month. Please know that I very much appreciate your enthusiasm for my banana shenanigans and I promise to come back with more sometime soon.
Until next time...
Bananimalize!
C.C. Banana
http://www.CCBanana.com
http://www.myspace.com/CCBanana
Much obliged, Mr. Banana!
We've actually gotten quite used to C.C.'s recent weekly contributions here at Metal Sludge, but after snagging 4 great interviews in as many weeks he's certainly earned himself a reprieve. As C.C. Banana explained, the following interview was conducted with Frankie via e-mail, which means you're getting the goods straight from Frankie's fingers! As a bonus, Frankie also supplied a few choice vintage photos exclusively for this interview, some complete with their own captions! Just remember, these pictures belong to Frankie Banali so don't you be swiping them, yo!
Anyway, let's jump into the interview now, shall we? From the looks of things, the Banana threw everything at Frankie but the kitchen sink, although by and large he managed to answer every single question! We're curious to see what he has to say for himself after all this time, so join us now for the following Rewind with Quiet Riot drummer Frankie Banana!
Uh, we mean Frankie Banali!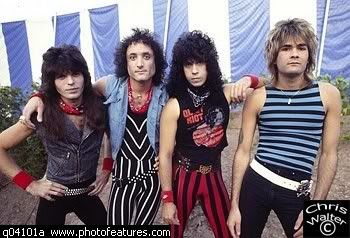 Frankie with the "Metal Health" era Quiet Riot
1. What are you currently up to? This is your one and only chance to plug your shit.
Continuing to tour with QUIET RIOT and doing the occasional session. Visit my official website and see what's up.......
2. What is the status of the long-promised new Quiet Riot album? In April of last year, Kevin said that the band was planning to enter the studio in September 2005 for a projected March or April 2006 release date. Then in late 2005, it was announced that the band would in fact be hitting the studio in January 2006. The latest word came in March, when you posted on your website that you'd completed all the drum and percussion tracks. However, it's now the middle of summer and the new album has all but dropped off the radar! What seems to be the holdup and when can fans expect to hear more of that sweet, sweet Quiet Riot sound?
The new album is a work in progress. Kevin and I made a conscious decision last year to record new QUIET RIOT music that would represent the style of music we both like. Since we are financing the project ourselves, we are in no hurry to churn it out because it is not time sensitive. Do we want it released? Of course, but when we are ready to do so and on our own terms.
Let's face it, the QUIET RIOT fans will likely go out and buy it when it's released. All those who aren't interested in QUIET RIOT will ignore it. Then of course, the legions of malcontents who don't like QUIET RIOT (or anything else, for that matter) will slam it as usual, without ever hearing it. So the album will be available when we decide to release it.
As for falling off the radar, that's by design. Initially I posted to let those interested know that the recording process had started and that I had completed the drum tracks, but it was done as a fan post on my website and not as any sort of press release. In the same manner, I posted that friends Tony Franklin, Neil Citron and Glenn Hughes would be participating in the recordings, again not as a press release. Beyond that, we have kept quiet about the rest because we didn't want to add to the usual internet flow of:
"We just recorded a guitar solo!"
"We just broke a guitar string in the studio!"
"I was rushed to the emergency room with a nasty splinter from a drum stick!"
"The studio dog took a shit when he heard the mixes!"
"We just had lunch at the California Pizza Kitchen!"
3. What in God's name is going on with the Quiet Riot lineup these days? Follow along if you can...
After reuniting in late 2004 with bassist Chuck Wright and new guitarist Alex Grossi, Quiet Riot played a series of US and overseas dates before ultimately hooking up with the Rock Never Stops Tour in the summer of 2005. Then Chuck seemed to leave as quickly as he'd returned, while Alex stuck around to work on the new album. Then all of a sudden, Alex was gone and Tracii Guns was in! Then Tracii disappeared and you named unknown guitarist Neil Citron and little-known bassist Wayne Carver to the roster! Somewhere along the way, Quiet Riot also started working with former Warrant guitarist Billy Morris and former Blue Murder bassist Tony Franklin! Then somehow Alex Grossi was back again, along with Paul Shortino-era bassist Sean McNabb! We're probably even forgetting a few, but these changes all occurred within a period of just 6 months! Is this rapid membership rotation really a better option than putting up with Rudy Sarzo and Carlos Cavazo?
Behind door number...
#1 - Alex Grossi & Chuck Wright: Their contracts expired on December 31, 2005. Being unsure of what would take place in early 2006, we opted not to pick up their options for another year at that time. It was a long 2005 touring year for QUIET RIOT and there were issues on both sides of the fence. We needed time to evaluate what was working, what was not working and whether those issues could be resolved in time.
#2 - Tracii Guns: Nice guy, wrong guy, we still like the guy.
#3 - Neil Citron: Immensely talented guitarist and a very dear friend who I have worked with on numerous projects. Neil makes more money as a recording engineer (yes folks, he's a Grammy award-winning engineer) than as a guitarist in the fickle world of rock music in the new millennium.
#4 - Wayne Carver: Next.......
#5 - Billy Morris: Great guitarist and friend who agreed to join the ranks temporarily, until we decided what to do next. His abrupt departure from the live lineup earlier this year had nothing to do with music and everything to do with a wrist injury he suffered on his motorbike (a.k.a. "his addiction") a week before we had a festival date in Mexico. Fortunately for us, we had already started discussions with Alex about returning to QUIET RIOT. By the way, Billy: you ROCK and thanks again!
#6 - Tony Franklin: The best bass player known to me and always my first choice to work with, if he's available. Tony was never approached to join QUIET RIOT, but was definitely an integral part of the recording process. Tony is simply the best, a world-class musician and person.
#7 - Sean McNabb: We had originally asked Sean to participate in the band at the start of 2006, but since he didn't want to commit it was pointless to ask him to do the record. However, in time he did agree to play some QUIET RIOT dates on an ongoing (albeit temporary) basis. This arrangement came to its natural conclusion on July 22, 2006 after the completion of a show with Alice Cooper and Vince Neil in London, Ontario. Sean is also a very good musician.
#8 - Rudy Sarzo: Presently the bassist for rock legend Ronnie James Dio. Although having Rudy back in QUIET RIOT could never be a mutual consideration in any way, I am very happy that Rudy has continued to excel. He has added another renowned musical opportunity to his list of credentials and I will always wish him the best, especially since Rudy and I shared a lot of history before QUIET RIOT.
Carlos was asked to participate a few years ago, yet declined. We wish him well, but there again, there is no chance that collectively we would want to share the association again. The idea of the so-called "original" version of the band getting together again will never materialize. We tried it from 1997 through 2003 with less than positive results on many levels. Some people are just not meant to share careers indefinitely.
The notion that anything "original" should continue because it's perceived as being better is nothing more than romanticism based on unrealistic expectations by third parties. What makes anything original "better" is not just the physical membership, but all the other ingredients that contributed to the end result. You can assemble any group of musicians that has worked together previously, yet still not have the same results because people change, times change and music changes.
As a follow-up, why didn't Chuck Wright stick around this time? Does his absence have anything to do with what you said in your 20 Questions about him being an "excellent bass player with a fear of commitment?"
#9 - Chuck Wright: See Door #1. Addendum: Chuck is also a world-class bass player. Sometimes situations work and sometimes they don't, for a variety of reasons. Chuck is actually now back with QUIET RIOT again and we all hope that this time everyone is happier with the association, both musically and as friends. I know that I will personally endeavor to make it so. Of all the bass players that have been in QUIET RIOT over the years (and there have been many), I feel that Chuck has always brought a great deal of musicality to the table.
NOTE: When C.C. Banana wrote up this interview just a few weeks ago, Sean McNabb was still in the band. But from what Frankie just said, it looks like Sean is now gone again and Chuck Wright is back... again! If Quiet Riot keeps this up, they may just take the title away from L.A. Guns or even Great White for most membership changes.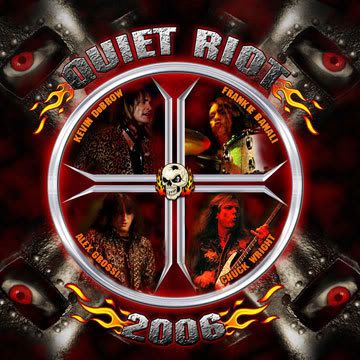 The Quiet Riot lineup as of August 7, 2006 (at 9:37 AM)
4. Speaking of Tracii Guns, he lasted only about 3 weeks in Quiet Riot (which is less than the 3 years he was in Brides of Destruction yet longer than the 3 days he lasted in Poison). Even L.A. Guns, the band named after him, doesn't seem to want him back anymore. Tracii has always been cool with us, but can you shed any light on why the man can't seem to stay in a band these days for more than 2 seconds?
Well, the timetable for Tracii's musical participation was in fact much shorter than 3 weeks, in any real sense. I spoke with Tracii at Kevin's suggestion, as he thought that Tracii would work out great in the band. I agreed that musically, he could. The discussions between Tracii and myself (and Tracii's manager) were very mercurial. One day it would all be positive, the next day there would be issues. After much debate, it seemed on paper that the arrangement would work but that no announcement should be made until Tracii had completed some European dates with Brides of Destruction.
The reality is that we had one rehearsal with Tracii, then called it a day. Again, Tracii really is a great rock guitar player so there were no issues there. But I couldn't overlook his history with different bands in the past. So when Tracii called Kevin the day after our one brief rehearsal and indicated that he no longer wanted to participate, we agreed that such would be best for all concerned. Kevin and I were already having misgivings about the association. In fact, I had mentioned to Kevin after that rehearsal that I would not be surprised if Tracii wanted out. Lo and behold, the next day he was gone. There were no issues, there are no issues. It was just simply not going to work for any of us. I do still hear from Tracii. As a matter of fact, I just got an IM from him a few days ago. He says hi!
5. In his recent Metal Sludge Rewind, Jeff LaBar of Cinderella said that everybody got along with everybody else on last summer's Rock Never Stops Tour, with the exception of Quiet Riot and Ratt not getting along with each other. What was this feud about, who was involved and did any fists ever get thrown? Did you guys ever bury the hatchet or is the feud still on?
There was no feud as such, but there is no love on either side of the fence. And there were no issues with Robbie, Jizzy or John. You do the math. As for burying the hatchet, I think there's jail time involved there somewhere......

Frankie with a rock star who does in fact like him, Robert Plant!
6. What do you remember most about writing or recording the following songs:
Cum On Feel The Noize =

Drum track: first take. If it wasn't for this song, you would likely not be interviewing me......
Stomp Your Hands, Clap Your Feet =

This is what happens when you tour with ZZ Top. You write a song with a middle section where everyone can go "Uh Huh, Huh, Huh, Huh....."
Winners Take All =

Nice power balled that will never be included in a "POWER BALLADS OF THE '80S" compilation because it doesn't contain lyric content about a girl someone is just sooooo in love with because she polished your knob.....
Main Attraction =

Kevin really likes this song. I don't really remember much about recording it but we have performed it live as an opening song from time to time over the years.
Twilight Hotel =

Like most of the songs on "QR III," not to my taste. "QR III" was a very disjointed record by a very dysfunctional band.
Itchycoo Park =

I wasn't there when this was recorded. Drum machine kick drum. I don't know about you, but I think the drum machine was rushing. Your thoughts.....? When we performed this song live I played congas, which has not endeared me much to the Latin community. I also "sang" background on this song when we did it live. Judging by my performance, I expect that any minute now the dealmakers at the MGM Grand in Las Vegas will be building me a theater for an extended residency.
Voodoo Brew =

I really enjoyed recording this. I brought the song to the band but Carlos had a heck of a time with the main riff. Chuck played awesome bass on this track. We've never played it live.
Monday Morning Breakdown =

Not memorable.
Highway to Hell =

AC/DC did a version of this, right? Just kidding folks, so save your time writing hate mail. It was the first recording done by the so-called "original" (a.k.a. "Metal Health" era) band when we reunited in 1997. The AC/DC version of course rocks, but our "original lineup" version is proof that "original" QUIET RIOT band attempts are not always better....
Vicious Circle =

A lot of energy in this track and it was a good opening song for a while, until Kevin got bored with it.
Rock the House =

On a broader scale, it didn't..... Having said that, it's the type of song that people would expect from QUIET RIOT, only to criticize it. You just can't win, can you......
By the way, is there any reason why the intro to "Rock the House" sounds exactly like the intro to "We're Not Gonna Take It" by Twisted Sister?
History lesson: The intro is predictably like the intro of the QUIET RIOT version of "Cum On Feel The Noize," because that is what the track called for. "Cum On Feel The Noize" came well before that Twisted Sister song. They copied the QUIET RIOT intro to some degree, so I suppose you will just have to excuse me for copying myself, thank you very much....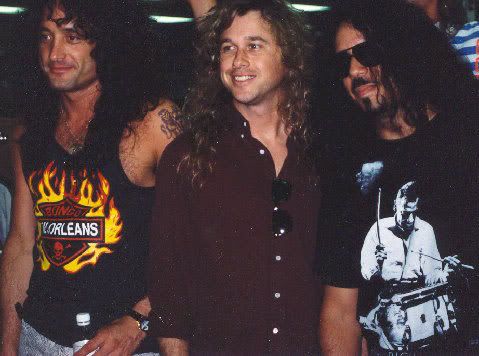 Frankie and Kevin on the "Terrified" tour, with then-bassist Kenny Hillery (RIP)
7. For the past decade or so, in addition to being the drummer, you have also handled all of Quiet Riot's business affairs. What is the single worst business decision you or the band has made since we last talked to you 5 years ago?
I'm going on 12 years as manager for the band so it's nothing new to me. As far as making business decisions, it's like the weather: If you think you're going to have a sunny day, you wear shorts, but then it rains so you grab an umbrella and avoid the puddles. You simply adjust...... I make whatever decisions I feel need to be made and I always advise Kevin and the band. In all business, there is little that is either black or white but a great deal that is gray. It's all in the details and the ability to adjust to the ever-changing parameters. The only difference is that in the music business, you have more lunacy than any hospital ward for the insane......
Damn, Frankie! Enough beating around the bush already, just admit you screw up sometimes!
8. Quiet Riot has been back together for almost 2 years now, but you still don't have an official band website. First QuietRiotOnline.com went down, then the "official unofficial" QuietRiotForce.com closed when the band dissolved in 2003. For that matter, FrankieBanali.com no longer belongs to you and instead offers deals on hotel rooms and airfares. What the heck is going on with that and can you get us a great rate on a round trip to Orlando?
QuietRiotOnline.com was closed when it became a forum for non-QUIET RIOT banter and when the "write-in" section became nothing more that a pit of vipers spewing venom. The so-called "official unofficial" site QuietRiotForce.com went down when QUIET RIOT imploded for a time.
As for my own personal site, some idiot purchased the domain name when I changed servers. People must have heard that I'm a world traveler and that it might drum up business for the airline industry. And no, I can't get you a deal to Orlando but I know several hookers in that city who will actually lie to you when they tell you that they really love you.
9. Who's the poor sap that gets stuck taping up Kevin's microphone stand before every Quiet Riot tour? Does Kevin do it himself or does that honor belong to whoever happens to draw the shortest straw?
Kevin takes care of all the stripe duties. If you want it done right, do it yourself.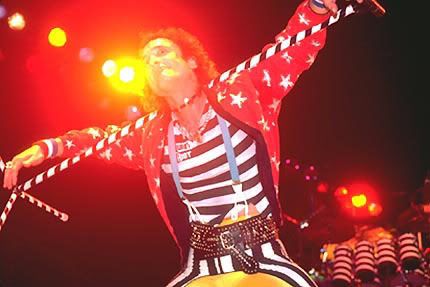 We were going to say that Kevin should be thrown in jail for dressing like this,
but from the looks of his shirt he's already been there.
10. Sometime in the mid-1990s it was announced that Quiet Riot would be releasing a greatest hits collection called "The Best and the Rest," which would collect your many hit singles ("The Best") along with all of your obscure foreign bonus tracks and B-sides ("The Rest"). Not that there's been any shortage of Quiet Riot greatest hits collections, but what ever happened to this particular one?
Sony decided to regurgitate another "Best of QUIET RIOT" release at the same time, so we decided to leave bad enough alone......
11. What was the reason for Quiet Riot re-recording 6 of its past hits for the 1999 studio release "Alive & Well," an album that featured the reunion of the celebrated "Metal Health" lineup?
The label that released the CD insisted on including remakes of the "hits" in order to consummate the deal. We hated doing it, but it was a deal breaker with the label. It would also give them the opportunity to further dilute QUIET RIOT by making licensing deals based on those songs.
12. In your official Metal Sludge Tour Diary from 2001, you told many a tale of woe because you were saddled with some less-than-qualified roadies. Is this a problem that continues to plague the band today?
For the most part, yes. Every once in a while, you get someone that works well with the band and understands what the job requires. Tech Mikey Vernon has worked with us longer than most and we work well together. As for the rest of them, that is another matter.

Frankie says: "Here I am interviewing yet another prospective tech, who looks smarter than most."
13. Which do you prefer and why?
Frankie Valli or Frankie Avalon =

Frankie Valli. He has a pinky ring.


Los Angeles riots or Watts riots =

QUIET RIOT


playing clubs or playing theaters =

Playing!


Stet Howland or Steve Riley =

Steve Riley. Not only is he a nice guy and a fellow Ludwig drummer, he never took credit for the drumming I did in that insect band. What were they called.......?


Dick Clark or Ryan Seacrest =

Dick Clark because of the non-aging space age polymer, the "Dick Clark Youth and Jack Cream"


Betamax or VHS =

DVD


skinny chicks or healthy honeys =

They each have something to offer......


wigs or cowboy hats =

A cowhide cowboy hat, blending the best of both worlds.


bananas or cucumbers =

I'd have to go with cucumbers because they have bumps, for her pleasure.


balloon animals or face painting =

Can I get back to you on this one after I speak with my attorneys...?
14. Congratulation on losing so much weight in recent years (after having bulked up a bit around 2001). At that time you blamed your weight gain on your love of pasta, claiming that you could eat it morning, noon and night! What finally motivated you to lose the weight and how much sex do you need to have to keep it off?
I was being referred to as "Frankie Banali, That Fat Fuck" so often that I broke out my birth certificate to see if "That Fat Fuck" was actually my name. Also, my doctor asked me if I planned on super-sizing my coffin, because that's where I was heading.
As far as sex to keep the weight off, what a great idea! Now I can fuck for medical reasons and have it be a tax write-off.

Frankie says: "Here I am shortly before the weight loss. And they say sushi isn't fattening!"
15. Since reuniting in the early 1990s, Quiet Riot has had a spotty track record with regard to record labels: Moonstone in 1993, Kamikaze in 1995, Cleopatra in 1999 and Bodyguard in 2001. In fact, when asked in your 20 Questions to choose between Moonstone and Kamikaze, you instead chose a poke in the eye with a sharp stick! What problems did you have with these past labels and who is left to release a new Quiet Riot album in 2006?
Moonstone: Entered the record label witness protection program, along with our royalties.
Kamikaze: Suffered the same fate as the Japanese aviators that flew them. Crash and burn.
Cleopatra: Ask anyone that is on the label.
Bodyguard: Bodyodor.
Who is left? Any one of a number of labels who feel that they may sell a few records.
16. Don't you think that Kevin is a bit much with his Glenn Hughes fixation?
Glenn is a great singer and Kevin is a great singer. Since the two of them have the singer thing going on, there is that common bond. They really have become very good friends, much more than Glenn and I ever were. And he and I actually did a record together, so there you go.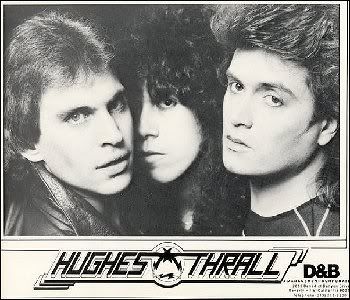 Frankie and Hughes and Thrall, oh my!
17. Yes or no, has Frankie Banali ever:
Gone skinny dipping =

Skinny, yes. Fat, no.
Licked your drumstick =

Only at KFC......
Sung along to a song by Clay Aiken =

Aiken't do that.....
Had sexual thoughts about a hot female newscaster =

There are a couple of hotties on CNN......
Seen Kenny Hillery naked =

No, but Kenny was a really great guy and bass player who is missed and remembered fondly.
Googled yourself =

Yes. I check periodically to see what pictures might be out there. I also check Metal Sludge quite often, as a barometer of what is being said. Any musicians who say they don't are lying behind the anonymity of their computers. Information is good to have, be it true or untrue...
Sold Quiet Riot memorabilia on eBay =

Never. Although I did allow a pair of autographed logo sticks and an autographed photo of myself to be auctioned off by another website, when it was in financial trouble and facing a possible shutdown. The sticks actually sold for far more that I'd expected and not a red cent went to me, as agreed.
Also, in the 1980s when my name association to QUIET RIOT meant something substantial, I did auction off several drum sets for reputable charities. Again as agreed, no money flowed to me.
Eaten food that's fallen on a dirty floor =

Okay, I was fat but I didn't eat everything! But if you are so inclined, I would be happy to take you out for a meal and personally sweep food from the floor onto your plate, at no cost to you. Date?
Bought drum equipment at a garage sale =

I think I bought a Ludwig snare drum once. Actually, it was at a yard sale. Does that count?
Slept with a chick then regretted it the next morning =

Every guy has. The difference is that I wore the QUIET RIOT mask when I did it and told the girl that I was Chuck Wright....... It was the best review Chuck ever got. Hey, wait a minute, you're not going to tell Chuck I said that, are you?

Is this masked man Frankie Banali or Chuck Wright?
The world may never know...
18. In 2004 you had a falling-out with W.A.S.P. main man Blackie Lawless, after having worked with him since the late 1980s. During an interview with Wendell Neeley on The Classic Metal Show, you revealed that the rift stemmed from the fact that Blackie did not want to pay you a fair rate in exchange for your live drumming services. This rift later manifested itself in Blackie leaving your name off the credits of "The Neon God, Part 2" CD, despite the fact that you'd drummed on the entire album. We don't really have a question here, we were just hoping to get you to talk some shit about Blackie.
The issue was never really about the money. He made his offer, I declined to accept and we went our separate ways without issue. Or so I thought. He then decided to devalue my participation on his recordings. He would have taken my credit off "The Neon God, Part 1" but the artwork had already been completed and the discs were already being manufactured. But he did remove my credit from "Part 2" since that release came after the fact. Blackie instead gave the credit to Stet.
This is typical BL BS 101. He used this same tactic when he and I didn't see eye to eye at the conclusion of recording "The Crimson Idol." He went on to do interviews at the time, saying that I had only played on a few tracks, which was not true. I recorded every song, except for a portion of one.
After we'd ceased hostilities, Blackie asked me to record the drums for "Still Not Black Enough." After which, he actually tried to set the record straight:
Blackie: Frankie has been playing drums for the band since "Headless Children," so he knows his way around and has done 75% or 80% since that time. He played on all of "Headless Children," 90% of "The [Crimson] Idol," all of "Still Not Black Enough" and so forth. Any chance I have to work with him, I always do because he is not only going to play his ass off but he's the most creative and clever drummer that I have ever worked with before. He is really, really good.
But don't take it from me, the original content can be found at:
http://www.eSpudd.com/articles/music/waspinter3.php
It's a shame that things ended the way they did between BL and myself because I always got along with him and I understand him. He is actually very talented when he doesn't paint himself into a musical genre corner. But as long as he travels in the company (and with the mentality) of "I, me, mine," the end result is evident. I have no desire or intention of working with him again and fortunately for me, I think he feels the same way.
I will always be grateful for his attendance at my mother's funeral in 1990, which is one of the reasons we started working together again, but he lost a good friend when he could not leave well enough alone after we went our separate musical ways.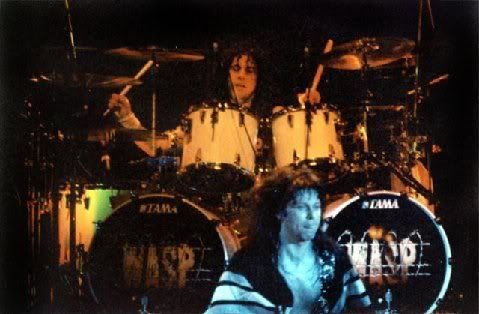 Frankie says: "Here I am on "The Headless Children" tour somewhere in Europe."
19. By the numbers:
Number of songs Quiet Riot is considering for the next album =

No less than 10 irritating tracks, no more than 13.
Number of autographs you sign on a typical night =

Upwards of 100. Yeah, I know, some of you out there will rant, "They can't get 100 people at their shows...." Take a harder look......
Number of times you've poked yourself in the eye with a drumstick =

At least once, as far as I can see.......
Number of times you've been mistaken for Bobby Rondinelli =

His grandmother, God bless her, once saw a QUIET RIOT video in the 1980s and said, "Hey Bobby, there you are." Then of course, there is the stereotypical bigoted idea that all us Italians look alike......
Number of pounds you weighed at your heaviest =

Let's just say that I had to put each foot on a separate scale, then add the weights in order to get an accurate reading. At least I never had to get one of those airline seat belt extensions. They clash with everything.......
Number of dollars you have to pay Rudy Sarzo every time you play a Quiet Riot concert =

None. That business was resolved years ago and I don't discuss business publicly. Because while it may be business, it's still none of your business.......
Number of ribs Alex Grossi has broken this year =

I don't know, but I hear he offered a girl named Eve a rib the other night at The Rainbow in Hollywood. Or maybe it was his bone that he offered........
Number of copies you've sold of "Guilty Pleasures" =

The count-backwards function on my calculator isn't working, so your guess is as good as mine.
Number of times Chuck Wright has joined and then left Quiet Riot =

The addition function on my calculator suddenly seems to be malfunctioning as well. What are the odds of that happening?
20. On July 6, 2001 at Jones Beach in NY, you and Quiet Riot were present the day C.C. Banana was born! At one point while you were playing "Mama Weer All Crazee Now," the Banana hopped up on stage and pumped his fist to the beat, rallying the lethargic crowd! Considering that C.C. Banana is still around and still annoying rock stars 5 years later, do you feel somewhat responsible for inflicting him on the world (when you could have simply taken him out with a well-placed drumstick to the head when you had the chance)?
Had C.C. Banana not spurred on the crowd to that exhausting response, we might not have gone over at all that day. So it is we who thank him for our rousing performance. But I did have three guys (all named Guido) ready take him out, just in case. I mean, come on, it was New York. Capisca?

Kevin DuBrow congratulates C.C. Banana on surviving to see his fifth anniversary!
21. The Last of Frankie Banali:
Last CD you bought =

Jaco Pastorius Big Band.
Last concert you saw from the audience =

UFO at the House of Blues in Hollywood. Went by to say hello to Jason Bonham. This was a few years ago. I'd rather spend time with my family than with musicians.
Last time you performed a song off "Terrified" =

Probably 1996 or 1997.
Last time you hung out with Carlos Cavazo =

We didn't hang out in the '80s, '90s or '00s. It's not that we don't like each other, we do. We just have nothing in common. Even being in the same band, we didn't have that much in common. He's a nice guy, though.
Last time you wore the Quiet Riot mask =

At a 7-11. I was a little short on cash that day. They thought I was Chuck Wright......
Last time you played to more than 1,000 people =

July 22, 2006 in London, Ontario. According to the local newspaper the next day, the attendance was over 10,000.
Last time you looked at John Bonham's ching ring =

Every time I turn the corner from my office to the family room. It's on the wall in a display box frame, right underneath several QUIET RIOT gold and platinum records.
Last time you ate really good seafood =

That will be this evening, when I go out for sushi......
Last thing you said to Paul Shortino =

"Thanks for doing a great vocal for me," on a yet-to-be-released, non-QUIET RIOT record on which I invited many musical friends to participate.
Last thing you hope to do before you die =

Raise my daughter in the best possible way that I can.
22. Let's face it, Frankie. You and Kevin aren't getting any younger and you're both circling the big 5-0. How much longer do you think you can keep Quiet Riot going? Do you plan to do what Gene Simmons and Paul Stanley are threatening to do with Kiss and keep rotating in younger players like Alex Grossi and Billy Morris? If so, who could possibly replace you and Kevin?
NOTE: Frankie appears to direct the following reply at C.C. Banana himself!
Well, you just took the express lane to the number one position on my call list when we do decide to call it a day, but don't hold your banana breath sitting by the phone.
Who could replace Kevin....? Well, Brad Pitt can't sing, so......
Who could replace me? How about you? You do have a big banana, so there's half the battle.......

Frankie says: "Kevin and I letting the QUIET RIOT critics know that we love them, too!"
Whoa! Looks like Frankie was getting ready to rumble there at the end! Easy big fella, the Banana is just doing his job! Plus, we're pretty sure he doesn't have any health insurance. Poor Banana, we really ought to start paying him one of these days.
Still, what a way to end the month! 4 big-name interviews in 4 straight weeks, capped by the return of Frankie Banali! It just doesn't get any better than that! Well, actually it probably could get better if we threw in free beer and a date with a stripper. But we're not gonna do that so be happy with what ya got.
Frankie can always be counted on to tell it like it is. Even though it's been literally half a decade since we last interviewed the man, he just gave us enough to chew on for the next couple of years! There's so much good stuff in there that you should probably go back and read it all again! In the above Rewind with Frankie Banali, we discovered that Blackie Lawless pulled a fast one on a longtime friend, that Tracii Guns lasted in the band all of one rehearsal and that Bobby Blotzer and Warren DeMartini are no fans of Quiet Riot. We also learned that Bobby Rondinelli's grandmother can't tell one fat Italian from another. Frankie even gave us the latest word on the ever-changing Quiet Riot lineup and offered hope for the next Quiet Riot studio album, even though they've apparently been screwed by every record label known to man. Frankie clearly put a lot of effort into his answers and we appreciate him being so hands-on by providing those exclusive photos and captions and stuff. We'll definitely need to check in with him before another 5 years go by, especially since we absolutely must ask Frankie about this: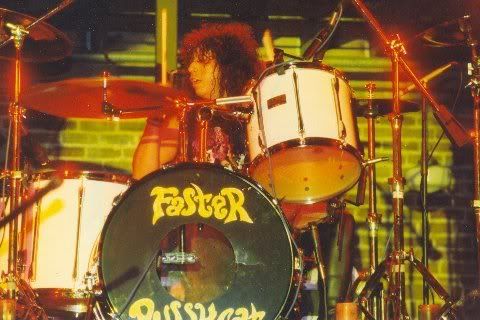 And speaking of the passing of 5 whole years...
We really hate to say it, but that wraps up the official fifth anniversary celebration, er, Bananiversary Celebration of C.C. Banana! C.C. took us on one heck of a ride during the past few weeks with some of the best interviews we've featured here in quite some time. Though we get the impression that the Banana will be laying low for the immediate future, you should continue to visit his website and send him your love. We'd like to extend our thanks to C.C. for the countless hours of work and dedication it must have taken to bring us this latest batch of rock star encounters, not to mention the dozens of other contributions he's made to us over the past 5 years. For somehow turning a one-time rip on C.C. DeVille into a burgeoning career as a rock journalist and comedic entertainer, Metal Sludge raises a glass, tips its cap and bangs its head to the one and only C.C. Banana! God bless you, ya fruity freak!
As C.C. Banana pointed out, Quiet Riot still doesn't have a new official website. So if you want further information on Frankie or the band, your best bet is to visit Frankie's current website below. Just remember to include the hyphen, unless you're in the market for a good deal on a cheap hotel room. In which case, just make sure Axl Rose didn't spend the night there before you.
http://www.Frankie-Banali.com
Metal Sludge
Metal Sludge Will Drive You Mad