Rewind with Jeff LaBar, 7/14/06
REWIND WITH...
CINDERELLA guitarist JEFF LABAR!
Metal Sludge is proud to present the first interview of C.C. Banana's month-long Bananiversary Celebration, commemorating 5 years as the rock & roll fruit. Today's featured guest is none other than Cinderella guitarist Jeff LaBar! Like C.C. himself, Jeff and Cinderella are currently celebrating an anniversary of their own. In honor of 2 solid decades as kings of the gypsy road, the band is traveling the country with fellow rock veterans Poison on their mutual 20th Anniversary Tour! For those of you who bought the debut albums of these bands when they were new, you just officially became old.
Metal Sludge actually has a pretty good track record when it comes to interviewing the members of Cinderella. Eric Brittingham and Fred Coury have each done 20 Questions and Rewinds in the past. They also both appeared in last summer's massive Rock Never Stops interview feature, in which C.C. Banana harassed the members of Cinderella, Ratt, Quiet Riot and FireHouse. Jeff himself did 20 Questions with us on June 29, 2004, at which time he had recently joined Eric in a project called Naked Beggars. But take our word for it when we tell you that the following Rewind with Jeff LaBar is by far our biggest and best Cinderella interview ever!
Since C.C. Banana was kind enough to put this one together for us, we'll let him fill you in on the specifics.
A Banana walks into LaBar...
My thanks to Metal Sludge for helping to spread the word about my momentous Bananiversary Celebration, a star-studded salute to the fabulous fruit! Throughout the month of July, I'll be commemorating the anniversary of my debut by releasing a series of brand new interviews with some of my favorite rock stars!
To kick things off, I present the following encounter with Jeff LaBar of Cinderella. Conducted while Jeff and Naked Beggars were playing at local rock spot Dingbatz in Clifton, NJ, what follows is an exhaustive account of his 20 years in the business of rock & roll. Though I had interviewed Jeff previously during Poison's Hollyweird Tour in 2002, it was a fairly informal exchange and played mostly for laughs. That original encounter is featured in its entirety on my BACKSTAGE BANANA home video, a sample of which is included below. This time around, Jeff was kind enough to answer all the Cinderella questions that had been rattling around my brain for the past several years. So read on and enjoy this latest exchange between LaBar and LaBanana.
And don't forget to come back soon for the next exciting installment of my ongoing Bananiversary Celebration!
C.C. Banana
http://www.CCBanana.com
http://www.myspace.com/CCBanana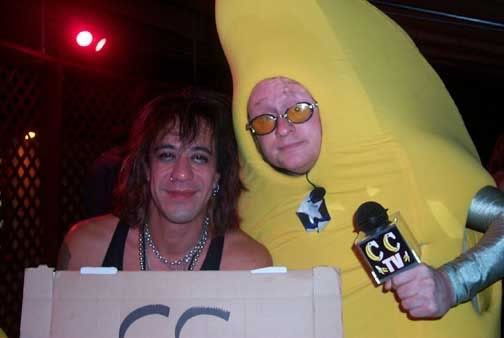 C.C. Banana and Jeff LaBar meet on the Hollyweird Tour in 2002!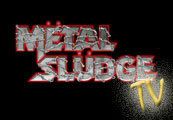 Click here to watch C.C. Banana interview Jeff LaBar!
Thanks for the intro and video clip, C.C.! When last we spoke with Jeff, he had just hooked up with Naked Beggars and was beginning to perform in their live shows. Since that time, Jeff has become a full-fledged member of the band and is featured on their sophomore release, "Spit It Out." Additionally, last summer Cinderella headlined the 2005 incarnation of the Rock Never Stops Tour, so it looks like things have gone pretty well for Jeff since he last checked in with us. The following interview was conducted on April 18, 2006 -- the very night C.C. Banana also interviewed Naked Beggars' Inga Brittingham and Kris Casamento for their very own Metal Sludge 10 Questions! Check that out when you have a moment, but right now it's time for our official Rewind with guitarist Jeff LaBar!
1. What are you currently up to? This is your one and only chance to plug your shit.
Well, these days I'm touring with Naked Beggars alongside Eric Brittingham, also of Cinderella. This is pretty much what we do all year round. Cinderella doesn't make new records anymore. We just tour 3 months out of the year, and even then it's not always every year. So Eric and I make records with Naked Beggars and we keep the band on tour. We do the booking, the accounting, the tour managing... we do everything ourselves. We just get in a van and take it on the road! Every now and then we can even afford a bus, like we're doing now. We just do what we do, bringing our music to the fans around the country and trying to create a new future for ourselves.

Jeff LaBar in Naked Beggars
2. For the past 2 years, you've been playing with Eric Brittingham in the band Naked Beggars. What's it like starting from scratch and playing small venues all over again, after first paying your dues 20 years ago with Cinderella? Do you feel like you're being punished for something?
No, but it definitely feels like we're starting over! Eric and I are spoiled. Since 1986, all we've had to do is just show up and play. Now we're doing everything we already did with Cinderella, except we never had to do this part! I'm doing stuff now in my early 40's that I haven't done since my early 20's. We hump our own gear, then we play, then we sign autographs, take pictures, hang out in the clubs or whatever venues we're playing. Then we hump our own gear back out and sometimes even drive ourselves to the next city! So it's a lot harder now, but it's also more rewarding because we're doing it all ourselves. And because it's new music, that's the best part about it.
3. What were you doing between Cinderella tours to keep yourself busy before Eric asked you to join Naked Beggars?
Painting. And I'm not talking about portraits! I'm talking about houses. In the lean years, I learned a few trades. My buddy Craig owns a bar and a construction company, so I kind of teamed up with him in running both. I also ran a pizza shop for a while with my brother Dave. He financed it and I ran it. I even learned construction, everything from home improvement to street maintenance. Fixing highways, putting in drainage pipes, stuff like that.
Did any Cinderella fans ever spot you putting in drainage pipes and ask you for an autograph?
Yeah... yeah, they did. Like the time I was on a ladder painting someone's skylight and the owner came up and said, "Hey, you're in Cinderella!" That was a little embarrassing. But you know, Cinderella wasn't doing anything so I had to work for a living.

Jeff LaBar with his sister Diane and brother Dave
(a few years before they ran a pizza shop together)
4. Cinderella headlined the Rock Never Stops Tour in 2005, sharing the stage with Ratt, Quiet Riot and Firehouse; a tour which most agree was a rousing success. What was it like headlining a package tour for the first time in 15 years?
It was very cool. The last few tours we'd done were opening for Poison. Which was nice because they're great guys and we got treated like headliners, but ultimately we weren't. So headlining our first tour in quite a few years... well, it felt good to be the king again! We know what it's like to be the opening band, so we don't treat anybody like they're the openers. It's good to be the king, but treat everybody well. The tour was cool because even though I'd crossed paths with every member of all the other bands over the past 20 years, I'd never toured with any of them.
I would say that my fondest memory of the tour would be every day with Kevin DuBrow. I met Kevin in 1995 on Cinderella's first club tour. We had never done a club tour before, because we were such big rock stars! So when we went down to touring clubs, we did it with two tour buses and a semi! We'd pulled into Memphis on a day off and Quiet Riot was in town playing another club, so I got to meet Kevin and Frankie and Carlos. I noticed that they had just one bus and a trailer, so I thought, "Hmmm... how do they do that?" And Kevin said, "Dude, we've been doing this for years. This is how it's done." If you go back to playing clubs, you've got to scale way back! So it was Kevin who taught me all that front office stuff. And I learned my lesson, because we made no money on that tour. What Kevin taught me, I now bring to Naked Beggars. So I learned a lot from Kevin.
Overall though, touring with all those bands was just fucking awesome. Bill Leverty from FireHouse, I've known him for years but we've just never toured together. John Corabi from Ratt, he and I actually grew up just a few miles from one another, though I never knew him then. We'd heard about each other for years, but on this tour I became really good friends with him. And as I said, Kevin DuBrow is just such a great guy, We would sit and talk for hours about old '60s and '70s music and quiz each other! "How about the Strawbs? Or Crack the Sky?" We would bring up the most obscure bands and try to stump each other. All the guys on the tour were awesome. Although I will say this: Ratt and Quiet Riot did not get along. I'll tell you straight up, they didn't get along with each other at all. But as far as Cinderella was concerned, we got along with everybody. It was so much fun.
Did you ever help John Corabi put in his dreadlocks?
No! I wouldn't touch his hair. I wouldn't touch it with a 6-foot banana! But I'll tell you what, the very next song I write will be called "Everyone Loves John Corabi." That guy is just magic. I don't know what it is, it's either his patchouli or his dreadlocks, but everybody who goes near him just falls in love with him. You could literally smell it! I'd wake up in the morning and walk outside the bus and I'd go *sniff, sniff* "Oh, there's John!" It's not a bad smell, it's just... John Corabi. He should bottle that, because I would buy it.

Cinderella headlining the Rock Never Stops Tour in 2005
5. We hear that you recently got married. Congratulations! But isn't it kind of dumb for a rock star to get hitched when you can just hook up with as many chicks as you want while you're on the road?
Well, the first time I got married, yes it was dumb. I actually married my high school sweetheart... while she was in high school! And we had a great kid together, Sebastian. He's 13 years old now and he's getting better at the guitar than I am! But it wasn't a good marriage, it just turned ugly. She took everything I'd made in the '80s and I had to start over. So then I dated and did all of the rock star stuff you mentioned... and I've definitely been kissed a lot! But I stayed single for 10 years because I was so jaded.
Finally, I went out and searched the country for the woman I wanted to be with. In 2004 I found her and her name was Debinique Salazar. I'd first met her a couple of years earlier, when she was about 19. She was just a young girl at one of our shows, but she had Cinderella tattoos on her back! So I brought her onto the bus and introduced her to the band, then I went back outside to sign autographs and that was that.
A couple of years later when I was on tour with Naked Beggars, Debbie came out to see us at a show in Iowa. When she showed me the tattoos on her back, I remembered her. "Oh, it's you!" At that time, the band was actually pretty high and dry without a merch girl. Eric's daughter had been selling our merchandise but she wasn't really into doing it anymore. So Debbie filled in and she made a shitload of money for us!
Later on, I asked Debbie out to dinner. Of course, she showed up late because she wanted no part of me! My reputation as a slut preceded me. Plus, since she'd made so much money for the band, they wanted to officially hire her. But I really wanted to get with her! The band said, "No, she's our merch girl now. So get off her!" Well, I got off her for about a day and a half. I just kept pulling my moves and talking my shit, but she just wasn't into it. So every day I would continue to flirt with her, but every night I would continue to be a slut. Finally, there was this one time when I was trying to get with one of her friends. Debbie said, "No, I ain't having that!" And that was it. From that moment on, it's been Debbie and me. In the summer of 2005, I got down on both knees in the back lounge of the tour bus and I pulled out a ring. To which she said, "Eh... alright." Really! Me, I had tears in my eyes and she was just all, "Oh, okay." We actually got married in Pottsville, PA at a Blue Oyster Cult concert.
Really? Blue Oyster Cult played your wedding?
Yeah! It wasn't really planned but we were already engaged by then. They said, "Hey, do you want to get married tonight?" So I asked Debbie if this was what she wanted for her wedding memory. She said yes, so we just did it! We got married on January 25, 2006 and we filed the paperwork on Valentine's Day. And the rest is... well, the rest is the future.

We now pronounce you Mr. and Mrs. Jeff LaBar! You may now squeeze the bride.
6. Speaking of your marriage, we hear that your wife is literally half your age. Considering that Cinderella has been around for 20 years, isn't there a good chance she might be the daughter of someone you slept with in the old days? For that matter, isn't it possible she's actually one of your own illegitimate kids?
Oh, man! No, that is not possible! I have no kids from back then! But I do see your point. Yes, she's half my age because... because I can!
7. Rate the following guitar players on a scale of 1 to 10. 10 being a genius shredder and 1 being a monkey with arthritis.
Reb Beach =

Reb Beach is a fucking 9! I don't know if I'll give anybody a 10, but we'll see.


Richie Kotzen =

That's the guy who fucked Rikki Rockett's fiancÚ. Just for that, he's a 5.


Angus Young =

Angus Young, he's awesome and my son will kill me for this, but I'm gonna have to give him a 7.


Tim Kelly =

Tim Kelly, probably a 6. He was a Pennsylvania boy too, a really good guy. I loved him, but he was a 6.


Keri Kelli =

Keri Kelli, he's a great guy but I have to give him a 5.


Steve Stevens =

Steve Stevens, I'll give him a 7. But I have to give his hair a 10 for looking like mine!


Vinnie Vincent =

Not a fan. I'm sorry, he's a 4.


Brent Muscat =

I love Brent to death, he's a 7.


Kris Casamento =

Aw, man! I'm giving Kris an 8. Absolutely, we work well together.


Tommy Thayer =

Who?

Tommy Thayer

. Who is Tommy Thayer?
At this point, Naked Beggars guitarist Kris Casamento chimes in:
He's the new imitation Ace Frehley!
Sorry, I don't know who Tommy Thayer is.

Jeff jams with Naked Beggars bandmate Kris Casamento!
8. What happened to Fred Coury after "Heartbreak Station?" He's not on "Still Climbing" and he didn't tour with you guys for that album.
We just parted ways. There was a lot of controversy within the band at the time regarding Fred. "Heartbreak Station" was the first record Fred actually played on, even though he's on the covers of the first two. Personally, I thought he played awesome, but "Heartbreak Station" sold only half as many copies as the previous records and I think maybe Fred was made the scapegoat. So it was a little bit of that, but also a little bit of him being a whiny bitch! He'd caused some tension within the band, talking to me about Tom, talking to Tom about Eric, talking to Eric about me, that kind of shit. At the same time, he also had other things going on outside the band. So we just decided to part ways because it wasn't working out between us, but also because he had better opportunities elsewhere. So it was a little bit of everything.
9. There was even a time in the mid-1990s when Cinderella actually broke up for a number of years. What led to this breakup and at the time did you understand it to be permanent? What circumstances led to the four of you getting back together?
Well, we never officially broke up. We just didn't do anything as a band. It was more like an extended hiatus. We still talked with one another but everybody just went off and did their own thing. We took 3 years off because Cinderella didn't have a record deal anymore.
What brought us back together was Polygram. They wanted to put out a greatest hits record, and nowadays you put new songs on those. So they gave us a little chunk of change and we all got together with Fred to record a new song. We actually recorded it in Fred's studio, where he produced it and put the whole thing together for us. So Fred came back with a vengeance!
Did he at least play drums on the song?
Oh yeah! So while we were recording, we all said, "Wow! This is cool! Why don't we keep doing this? Why don't we go on tour again?" But at the time, we didn't know how to do it. We had no management and no record deal. So we just started putting it together ourselves. But even before getting back on the road, we'd found new management and prospects of a new record deal.
Wasn't there also a benefit concert in there somewhere?
It was a local South Jersey benefit, for a friend whose child had gotten into a car accident and didn't have insurance. Eric, Tom and I are all from the South Jersey / Philadelphia club scene, which is a very tightly knit community. Since the '80s, a lot of those people have stayed in contact with each other and whenever somebody from that scene gets in trouble, everybody else rallies around and does what they can. So yeah, somebody had gotten us all together and we played one show. It wasn't even a whole concert, I think we only played a few songs. If you see the pictures of us from then, we were all fat and out of shape! But it got us back together.
Did anyone play a benefit for you when they saw you painting houses and putting in drainage pipes?
I wish they would have!

Cinderella in 2002 (after they'd all had a chance to slim down)
10. What do you remember most about writing or recording the following songs:
Somebody Save Me =

I remember we were recording in Bearsville, NY in a big cutting room. Our studio drummer, Jody Cortez and I were up in a loft doing the drum tracks. For all the rhythm tracks on that record, I was in the room directing him and giving him little cues and stuff. So what I remember most is that this was first song on which they actually kept my original rhythm track. If you've never recorded an album before (which at the time I hadn't), that's pretty rare. So when we got to the final take, I never had to re-do my guitar track because apparently I'm just that good! And that was the first time that had ever happened.
Once Around the Ride =

I remember Andy Johns telling me, "You suck!" When I was doing my solos for that song, I was all over the place, doing wild stuff like C.C. DeVille. I think I made a sound at the beginning of my first solo that sounded like a horse whinnying! Wheeeeeeeoooo! Andy was like, "What the fuck was that?" I was 22 or 23 at the time, I just said, "That's cool, dude! That's what all the kids are doing today!" He said, "You know what? Don't do that." And he told me to do something better. So I tried. I don't know if I succeeded, but I did my best.
Coming Home =

Tom and I must have put something like 13 or 14 guitar tracks in the out section of that song. We just started layering tracks and putting more guitars in there. It was like 5:00 AM and we were saying, "Hey, let's add something else! I got this other part, too!" We were getting all excited in the wee hours of the morning and we just kept adding more and more guitar tracks! I'm getting a little excited now just taking about! I swear to God, that section must have 14 guitar tracks on it.
Fallin' Apart at the Seams =

I remember recording that guitar solo, then coming in the next day to find that it wasn't my guitar solo anymore. Tom had come in... and I don't know this for a fact, but this is what I believe... Tom had come in after I'd gone to bed and he had re-cut my guitar solo. It's note for note, but it's not me.
Jumpin' Jack Flash =

What album is that on?

It's one of your live B-sides.

You know what? I just remember being bored with it. I'm not a big fan of that song. I remember we wanted to do a Rolling Stones cover and it was fun when we did it live with the other bands on tour, BulletBoys and Winger... then later with White Lion or Tangier. So it was fun for the encore, but I'm not a big fan of the song.
Shelter Me =

I remember the video was just a blast to make! Shelley Duvall was in it, Little Richard, Dweezil Zappa... I always tell people that Christina Applegate was in the video, but it was just some girl who looked like her. I'd have to say my biggest memory of making that video was Pam Anderson being there, and at the time she was going out with Chachi! It took us 3 days to shoot that video and Chachi showed up every single day. Of course, I'm talking about Scott Baio. We called him Chachi the whole time and he wasn't happy about it! This was right around the time Pam was becoming known as the "Tool Time" girl, so she was still looking like the girl next door and hadn't yet had all the plastic surgery. But everybody was flirting with her and hanging with her and trying to be next to her, and Chachi was just standing there with his arms folded, scowling at everyone. And I didn't blame him, because he was about to lose her! I think Bret Michaels might have been in the next room!
Electric Love =

The only thing I can think of is that when we were recording that song, I thought it sounded like Bad Company. It's a cool song and I do love it, I just haven't played it in a long time.
Hard to Find the Words =

My memory of that song is Tom's mother. She was in the hospital with cancer when we were recording it and every note of that song was played for her. She actually didn't live to hear the final product, but she did hear a rough mix. And then Tom did that funeral dirge thing in the out section. That's what I remember about that song, it was totally about Tom's mother.
Blood from a Stone =

My wah-wah part! I came up with this cool wah-wah part and I had to record it in 3 different octaves, then I had to double it. So I did 6 separate tracks, going WOHH-WAAH, WOHH-WAAH, WOHH-WAAH, WOHH-WAAH, WOHH-WAAH, WOHH-WAAH. Yeah, put that in print!
Hey, I'll do it!
NOTE: He did it!
Spit It Out =

I'll be totally candid about this. A lot of the Naked Beggars stuff from the second album was recorded while I was in jail. There was a warrant out for my arrest from a DUI that I had just kind of fled, so after we'd recorded the basic tracks with our then-new drummer Shawn, the band went into overdubs while I went home to Philly to turn myself in. But Eric kept all my tracks from the drum sessions and made them all work. So when I came back after a month or two, I went in and pretty much did all my overdubs in about 2 days. So that's what I remember about that whole album.
Creep =

I have a co-write on that. In Naked Beggars, there have been a couple of songs that I've come up with but Kris usually comes up with most of the music. Then Inga and Kristine sit on the couch and by the time we're done building a whole song, those two have all the lyrics and all the melodies. It's a really cool process. This song was cool because I got to play slide. In Cinderella, Tom is the slide player but in Naked Beggars, apparently it's me. For a lot of Kris' ideas, he'll do the tuning and then I'll come up with the slide for it. It's a nice little arrangement.
Fool's Paradise =

That was a song that Tom wrote. We demoed about 5 songs for a new record that never got released. We did them at Tom's house, in his home studio. I think he subsequently had our parts redone, and that material may come out on his solo record. But I couldn't even tell you how that song goes.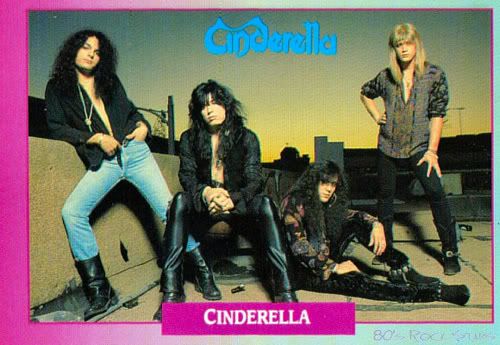 The band that got only 5 songs into recording their next album!
11. We hear that there are certain legal complications preventing Cinderella from releasing a new studio album. This situation dates back to the late 1990s when you first signed with Sony, so wouldn't any statute of limitations be up by now? Is there anything you're allowed to tell us about the status of this phantom album?
It's not a legal matter, we simply don't have a record deal. That's all there is to it. Sony never prevented us from putting out a record, they just never released one. Our legal problems with them are over. After we signed with Sony, we wrote material and made demos for the next 3 years. But they never put us in the studio with a producer to make a record because John Kalodner felt that the writing wasn't strong enough. So he just kept telling us to write. In 2000 we went on tour with Poison, then we came back and wrote some more and cut more demos. Then in 2002 we went on tour with Poison again and then the CEO of Sony came in and cleaned house, shutting down Kalodner's Portrait label in the process. Contrary to popular belief, we weren't signed to Portrait; we were actually signed to Sony. They could have released our album on Portrait or Columbia or whatever they wanted. But the CEO just cleaned house of all the scrubs and all the dead weight, including us. This was after being on the label for 3 years, so we got into a lawsuit. They actually tried to settle and offered us a big chunk of change, but we didn't accept it. Which was a mistake, because we were in litigation with them for another 3 years and we ended up getting less than what we could have settled for. We walked away with about enough to cover our lawyer fees. So it's not that we can't put out a record, but we won't put one out without a record deal.
Is a new album something that Cinderella would still like to pursue at this point?
It's all up to Tom. I don't think he'll do it. He probably won't do his solo album, either. Eric and I can put out Naked Beggars albums all by ourselves, but I don't think Cinderella will ever put out another record.

Fred and Eric with rock guru John Kalodner
(before Cinderella got the axe)
12. If Cinderella were to record a new album and you came to the band with a song you'd written, would Tom consider it or would he just tell you to go play on the freeway?
Oh, he would consider it. I've done that before and we've learned songs that I've written, but they never made the cut. They just weren't good enough. By the same token, I've never presented that many songs. I think the stuff I've written in the past may not have been appropriate for Cinderella.
13. Name the biggest difference between playing in Naked Beggars and playing in Cinderella.
For me, the biggest difference is that I feel freer in Naked Beggars to do what I do. I think in Cinderella, I've tried to fit into a mold and I've maybe felt a little stifled. I've played my part the way it was described to me and I believe I've made the most of it. In some ways, it's actually easier to be in Cinderella because I'm playing songs I've been playing for years. They're fun to play and it's not very hard work. When I'm playing with Naked Beggars, the playing is a little more intricate so it's a little harder. However, I'm free to play the way I want to play, act the way I want to act and write the way I want to write.
14. Dave Mustaine once fell asleep on his arm and fucked it up so badly that he had to quit playing guitar and actually broke up Megadeth for a few years! Have you ever done anything stupid like that?
Oh, I've never done anything stupid!
Actually, I got into a knife fight! And it was with one of my friends. This was in between Cinderella tours, during a night of heavy drinking and some pills. The blade of the knife was squeezed into my hand and it went half way through my thumb! I went to the emergency room, where they sewed me up and sent me home. It wasn't until later that I found out I'd severed a bunch of tendons. See this scar? They had to chop me up and take a tendon out of my arm to reconnect my thumb. To this day, I can't bend my thumb very far. Although it does bend backwards now!
Does it still affect your playing?
Well, for 6 months I stayed in my basement, re-learning how to play the guitar with my right hand. Today I do have limited feeling in my thumb, but at the time I had absolutely no feeling! I'd try to pick, but my right hand could not keep up with my left hand. I'd drop the pick and I wouldn't even realize it. So yes, I have done some stupid things!
At this point, C.C. Banana does a stupid thing of his own when he runs out of tape, leaving him unable to finish the interview! Rather than cutting things short and calling this article "14 Questions with Jeff LaBar" or "2/3 of a Rewind," the Banana slips out to the Bananamobile to find a cassette that he's willing to record over. He returns moments later with a homemade copy of Bon Jovi's "Slippery When Wet" that has been in his car for about 15 years. Upon re-entering the Naked Beggars tour bus, C.C. Banana finds the other members of the band making cow sounds and other animal impressions, running out the last few minutes of the original tape.

Naked Beggars
We now return you to your regularly scheduled Metal Sludge Rewind.
Sorry about that, Jeff!
That's okay, I really had to pee.
15. Which do you prefer and why?
Jeff Lynne or Jeff Goldblum =

Jeff Lynne! Absolutely, man. I was a big fan of ELO. I saw them when they toured their third record. They played the Tower Theater in Upper Darby, where I grew up. Jeff Lynne is just amazing. He definitely doesn't get the credit he deserves.
La Boheme or La Yogurt =

What?! "La Boheme?" That's a play, right? Um... neither!
Sleeping Beauty or The Little Mermaid =

I have to go with "Sleeping Beauty." It's a classic.
Naked Volleyball or Naked Twister =

Oh, God... I'll go with Naked Twister. Less sand!
Rocked, Wired & Bluesed or Once Upon A... =

Well, they're both pretty much the same songs! But "Rocked, Wired & Bluesed" has a cooler cover.
Gypsy Road or Sesame Street =

When I was growing up, I was a big fan of "Sesame Street." But I think "Gypsy Road" made me more money.
Portrait or Polygram =

Polygram did well by us for quite a few years. I was a big fan of Polygram until somebody wrote a book called "The Hit Men," exposing payola and all that stuff. At the time it was common practice, I just didn't know it was illegal! All of a sudden, everybody who loved us and worked for us at Polygram was gone.
constipation or diarrhea =

Whoa! You know what? I actually prefer constipation. The ass burnage, not so much.
Lost in Space or The Outer Limits =

Oh, I loved "The Outer Limits!" That show was cool.
Jordache or Sassoon =

Well, back in the early '80s I had both! So that's a tough choice. I think I had more Jordache than Sassoon, though. I wore them with my Capezios!
At this point, Jeff's bandmate Eric Brittingham offers the following:
I thought you were more of a Sergio Valente guy!
Actually, I was a Gloria Vanderbilt chick!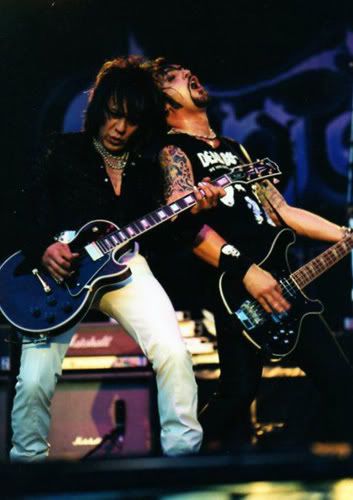 Jeff and Eric still love their tight pants!
16. Has Ronnie James Dio ever made fun of you for being shorter than he is?
I'm not shorter than he is! My ex-wife is 5 feet tall. I actually have a picture of her and me with Ronnie in the middle and he's shorter than she is! I've always thought he was such a great guy, but then I got to be friends with his guitarist Craig Goldy, who said, "Well, you don't have to work for him!"
17. Name a Cinderella song you've never played live.
Uhhh... oh, jeez... what have we never played live? Oh, "Winds of Change." That was one of my favorite songs but we never got to play it live. The Scorpions had come out with a song called "Wind of Change" that same year, and they were on the same label. We wanted to release the song as our third or fourth single from "Heartbreak Station" but they wouldn't let us because the Scorpions were also on Polygram.
18. Time for Metal Sludge's Word Association! We give you a word, you give us the first thought that pops into your head.
Axl Rose =

Put down the straw, get out of your room and get on the stage!


Fred Coury =

Fucking awesome! Love him to death.


Rick Criniti =

One word: NAZI! He was the best man at my first wedding.


Frankie Banali =

Very personable. And he was very cool to my new wife.


Kelly Clarkson =

Great singer! THE American Idol.


Brangelina =

Big fan of Angelina, not so much of Brad.


Shawn Hughes =

Goddamn Shawn mother-fucking Hughes! Flaming drumsticks.


Nikki Sixx =

Ultimate rock star! Put him and David Lee Roth together and that's all she wrote!


Joe Perry =

Just amazing.


Jizzy Pearl =

Uh... I prefer not to answer that. Because I'm gonna call him a scrub!
Eric Brittingham again chimes in:
I was buds with Jizzy, does that count?
At this point, C.C. Banana informs everyone of the recent car accident involving Jizzy Pearl, Alex Grossi and Scott Griffin from Hookers-N-Blow. It was a pretty serious smash-up and those guys were lucky to make it out alive! Jeff then says he feels bad for calling Jizzy a scrub.
19. What is your opinion of C.C. DeVille appearing on "The Surreal Life?" Do you think it will help bring in more people to your summer tour with Poison? Also, what kind of show could VH1 make about Jeff LaBar?
What really surprised me is that C.C. comes across as the most intelligent and sensible person on that show. C.C. is one of my heroes, personally. He's just an amazing person. So in one respect, it surprised me that he isn't being such the clown on that show. But then again, it didn't surprise me because I know he's more than that. He tends to play the clown, but he really isn't. He's just so fucking cool and funny and entertaining. C.C. being sober on that show actually brought a voice of reason to the house. Although if I were on that show, I might not be so reasonable!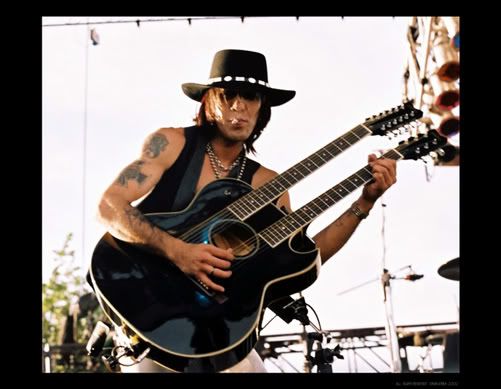 Jeff on tour with Poison in 2002
20. Give us a memory of visiting or touring in the following cities.
Los Angeles, CA =

Shopping! To me, Los Angeles is all about shopping on Melrose. I'll try to be careful with my money on tour and I won't spend any for months, but once I get to Los Angeles it's a given that I'm going to drop a few grand on Melrose. That's where you find the coolest clothes and all the best stuff. Aside from the shopping, it's mostly just a bunch of plastic people. You know, smile for the camera, meet some famous faces and then move on.
Seattle, WA =

What I remember about Seattle is the drugs. I remember Seattle in the '90s, when grunge was big and heroine was bigger. So that's pretty much what I remember. Oh, and the flannel!
Denver, CO =

Hockey! Our tour manager is from Denver and every time we go there we get to play ice hockey. I remember the very first time I went there, I got hammered on just 3 beers! Not only because of the altitude, but because we were on the 21st floor of the hotel! After 3 beers, I was gone! But pretty much, I remember the ice hockey.
Tokyo, Japan =

I love Tokyo! Tokyo is where my mother is from. So when I go to Japan, I get to visit my whole family. My mother is one of seven kids and they all have kids of their own. So I have uncles, aunts and cousins all over the place and every time we go to Japan I bring my mother with me. I went there for a whole summer when I was 5 and I came back speaking only Japanese! I had to re-learn English for kindergarten. I love the food, I love the people, I love the city. I once even gave one of my guitars to the Hard Rock Cafe there. It wasn't mounted or anything. I just said, "Here, can you put this up? Because my family will love it!"
Dallas, TX =

Women! The women there are unbelievably fucking beautiful. Texas just knows how to grow women!
Milwaukee, WI =

Beer! Actually, all the cities in Wisconsin are great rock cities. It's just a great state for rock & roll. Every time we go, there are 6 or 7 cities to play. And of course, the beer!
Montreal, Canada =

A bunch of fucking frogs! Everybody there speaks French, they're all pompous and they don't seem to like Americans. Every time I've been there, the people have talked down to me and acted like I was a second-class citizen. Aside from that, I do love their hockey team!
Memphis, TN =

Beale Street, man! It's where all the blues clubs are. Actually, one of my fondest memories of Memphis is our bus driver Jimmy Holmes getting hammered there. We had a day off in Memphis and Joe Strummer of The Clash was sitting at the hotel bar. Jimmy didn't drink, but once we finally got him to... he wouldn't stop! He went around the bar and started grabbing up everybody's drinks. He just got hammered! So that was memorable. Of course, Elvis' pad was alright too, even though it was tacky as all hell. Nice orange shag carpeting with purple wallpaper! But I'll definitely always remember the blues clubs on Beale Street.
Detroit, MI =

The first time we played Detroit was with Bon Jovi. I think we played 4 shows there and they were all sold out. So I spent almost a week in Detroit but I tried to stay in my hotel room the whole time. There would be gunshots literally right outside my window! My more recent memories of Detroit include playing at Harpo's and I-Rock. They're in the fucking 'hood, man! Which doesn't bother me, having grown up in Philadelphia. It's just a high crime area.
Atlantic City, NJ =

Growing up in Philadelphia, I spent the summers at the Jersey shore. My grandparents had a home in Ocean City. Then as teenagers we used to go to Wildwood, that's where all the rides are. And then as I got into gambling, I'd go to Atlantic City. My most recent memory of Atlantic City is playing at the Trump Taj Mahal on the Rock Never Stops Tour last year. Everybody treated us so nicely. My family all came out to see me finally play a casino, which meant I'd somehow finally achieved being old! When I was in my 20's, I used to think, "If I ever have to play a casino, kill me!" And now I think, "Hey, can we play more casinos?" Back then, casinos were places where old musicians went to die. But now they have nicer venues and they cater more to rock bands, so it's much more accepted.
Clifton, NJ =

C.C. fucking Banana! Every time we come to Clifton, I know I'm going to get to see him. So that's always cool. Other than that, I know I can get some good Italian lunch meats.

Jeff LaBar and Eric Brittingham with C.C. Banana... in Cllfton, NJ!
21. What do you think the future holds for Cinderella, Naked Beggars and Jeff LaBar?
I think in the future, Cinderella will probably just continue as it is now, touring every other summer for the nostalgia of it. I do hope for more, but that's probably what will happen. I don't believe we'll make another record. Maybe we will, because I would certainly love for that to happen. As for Naked Beggars, I see a record deal and I see a new future for myself, my colleagues and my friends. This is what we've been driving toward and working hard to achieve. I definitely think we have the goods. I've seen what's out there and we're so much better. I see Naked Beggars being my future. Personally, I just hope to be happy with my new wife and to watch my son grow up to become a better person than I am. I hope to give him a better life than I had and I hope to be happy with Debbie in whatever we do.
Awww, that is so sweet, Jeff! What a nice way to end the interview. You old softie, you. But getting back to something you said a moment ago... about looking forward to Italian lunch meats and giant bananas...
Dude, that is just wrong for so many reasons.
Either Jeff leads a very sheltered existence or he gets some very strange cravings. Hey, maybe he's pregnant! That would explain why he had to get married. In any case, we're glad to see Jeff so happy these days, especially since his ex-wife took all his Cinderella money and he had to paint houses for a couple of years. Jeff told some great stories from the dark days of Cinderella and even spilled some of the details of their ill-fated Sony deal. Plus, he took a few pokes at Tom Keifer, called Jizzy Pearl a scrub and accused Fred Coury of being a whiny bitch! These are the things of which a classic Metal Sludge interview is made! We have to hand it to Jeff for opening up and telling it like it is, especially since we were making fun of him all the way through. We also have to thank the unstoppable C.C. Banana for snagging yet another great rock star interview, the first in a series he'll be releasing throughout this month's Bananiversary Celebration.
Who will C.C. Banana interview next? We don't know because he's not telling. He does promise that it will be someone really good, so come back soon to see what the big yellow guy has in store. In the meantime, don't forget to check out Jeff on tour this summer with Cinderella and Poison, then again in the fall when he hits the road with Naked Beggars. To learn more about Jeff LaBar and his multiple bands, visit him at any of the numerous links below.
http://www.Cinderella.net
http://www.myspace.com/StillClimbing
http://www.NakedBeggars.net
http://www.myspace.com/NakedBeggars
http://www.JeffLaBar.com
http://www.myspace.com/JeffLaBar
Metal Sludge
Sludgebody Save Me