Trixter Sells Out Headlining Show! Hell Freezes Over, Pigs Fly, 12/2/08
TRIXTER SELLS OUT HEADLINING SHOW! HELL FREEZES OVER, PIGS FLY!

Trixter plays to a sellout crowd on the day after Thanksgiving 2008!
Okay, now we've seen everything.

If it wasn't already unbelievable enough that Axl Rose finally released the 15-years-in-the-making new Guns N' Roses album "Chinese Democracy" last week, the reunited Trixter just pulled off something even more miraculous by filling a nightclub with nearly 500 people. Yes, you read that right! This past Friday night (November 28th), some 500 NJ fans were crammed like sardines into a club just to see Trixter. Fucking TRIXTER! From what we hear, the show was absolutely mobbed and the place was jammed to capacity. What the fuck is that all about? Is this the fucking Bizarro World where everything bad is good and everything lame is cool? Somewhere out there, Slayer is playing to empty houses and Lars Ulrich's hair is growing back. We honestly wouldn't have believed it if we hadn't seen the proof with our own eyes. Luckily, our NJ correspondent C.C. Banana was on the scene to report what he saw during this unprecedented Black Friday event.

Hey Sludge,
I just got back from seeing my very first Trixter concert and the show was completely sold out. No, I'm not drunk! There was even a big line outside and I don't think everybody got in. This was at a new venue called Dexter's Entertainment Complex in Riverdale, NJ and even though it's a really big place, it was wall-to-wall bodies. The parking lot was so full that people resorted to leaving their cars at the Wal-Mart down the highway and walking! You'd think it was some sort of crazy late night Black Friday sale or something. Anyway, the show itself was a lot of fun and the tunes went over really well with the fans. Pete Loran, Steve Brown, P.J. Farley and Mark "Gus" Scott were all in fine form and none of them looked a day over 40! Fellow Jersey rockers TNA and Ray West's new band Hostel, Inc. did a fine job opening the show, energizing the already sizeable and enthusiastic crowd. To be sure, the sheer magnitude of the turnout helped make this event truly a night to remember (and a fitting way of popping the Banana's Trixter cherry).
NJ Banana
http://www.CCBanana.com
http://www.myspace.com/CCBanana
Trixter headlining for a capacity crowd must surely be one of the signs of the Apocalypse. The next thing you know, Ozzy Osbourne will have his own variety show and Kiss will announce they're working on a new studio album. Oh, wait... never mind. Trixter originally reunited earlier this year to play the massive Rocklahoma festival in July, followed later that month by performances at the similarly huge Rock Fest and the Hi-Pines Music Festival in Wisconsin. Most recently, Trixter opened for fellow scene veterans Warrant on their first gig with new singer Robert Mason (who by all accounts kicked total ass). This headlining appearance was only Trixter's fifth reunion show and their first hometown NJ performance in over 13 years. It must be true what they say about absence making the heart grow fonder, since we can't argue with the evidence at hand. Anyway, here now are some photos documenting the night when airborne pork descended upon an icy Hades.
NOTE: All watermarked photos are courtesy Lady Ace Photography.
No, this image has not been retouched! All these people really are here to see Trixter!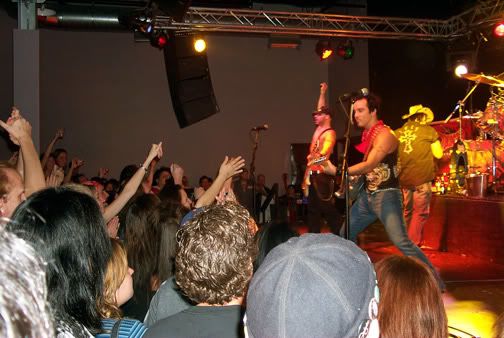 Trixter is back in action for 2008, givin' it to them good at their NJ homecoming show.
Rabid Trixter fans invade Dexter's in Riverdale, NJ!
Fellow Jersey icons Bon Jovi and Bruce Springsteen must not be playing anywhere tonight.
Singer
Pete Loran
doing his best Bret Michaels impression (even though he would seem to still have all his hair). Pete did
20 Questions
with us way back in 2000, at which point he called Steve "selfish!" Hopefully those two have worked out their differences by now, or the Trixter reunion might end in a Vince Neil/Tommy Lee-style brawl. Pete actually flew in all the way from Arizona to play this NJ show, whereas the other guys just had to drive a few miles down the road.
Bassist
P.J. Farley
looking a lot more buff than we remember him from Trixter's heyday! Not only did P.J. answer
20 Questions
for us in 2001, he later returned for a thorough
Rewind
in 2005. These days P.J. plays in a band called
Ra
, something you would have known if you'd read his interviews. Go on, get cracking!
Drummer
Mark "Gus" Scott
returns to bash the skins after essentially retiring from the music biz for about a decade. We never did manage to interview Mark but we can tell you that these days he can usually be found in full maitre de mode at
The Copper Bottom
, the restaurant he owns in New York! Despite the fact that Mark works around food all day, he nevertheless managed to lose 30 lbs. for the Trixter reunion. We only wish we could say the same for Twisted Sister drummer A.J. Pero.
We're not sure what Pete and P.J. are doing in this photo, but it just looks wrong so we're not going to comment on it.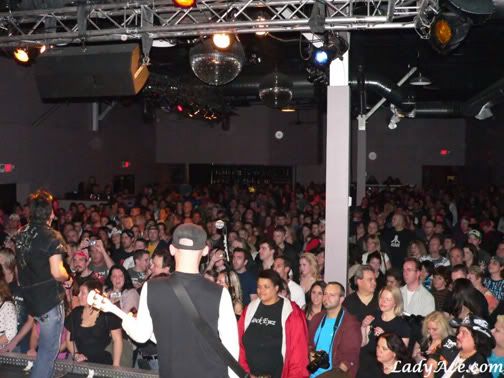 For those of you still in disbelief, here's another shot of the insane amount of people who showed up to see Trixter this past Friday. What are the odds of finding somebody in this crowd under 30? Probably... One in a Million!
The Mighty Trixter takes a bow at the end of their big homecoming performance, to the loud approval of their NJ fans. It makes you wonder what's left for these people to do in Jersey NEXT weekend? Poor bastards.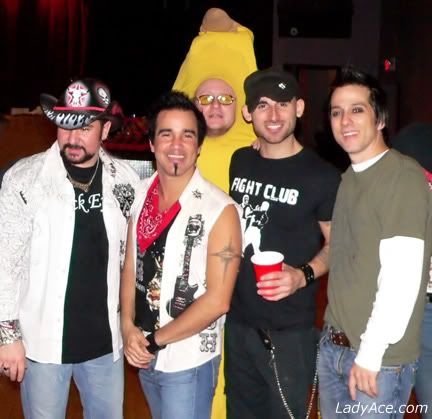 After the show, C.C. Banana crashes the Trixter photo shoot!
It's too bad Mark forgot to look at the camera or this shot would have been perfect.
Now here's an interesting photo op. Pictured above are Trixter guitarist Steve Brown, rock & roll fruit C.C. Banana and Vic Rivera of AdrianGale and Crunch... all of whom appear on the unlikely new tribute album
"KISS MY ANKH: A Tribute To Vinnie Vincent!"
Steve does a killer acoustic version of Kiss' "A Million To One," the Banana croaks out a
hilarious parody of "Unholy"
and Vic collaborated on a very cool version of "Love Kills" by the Vinnie Vincent Invasion (samples of each available at the official
"KISS MY ANKH"
MySpace page). Vic is also one half of the new act
Poley/Rivera
(alongside Ted Poley of Danger Danger fame), whose debut album is due out any day now! Coincidentally, it was 4 years ago this Thanksgiving weekend that Vic, Ted and C.C. all teamed up for a show of their own at dearly departed NJ night spot Double D's -- the rock club and strip bar all in one! You can check out all the D-lightful D-tails from that night by clicking
HERE
.
For one last blast from the past, here's a clip of C.C. Banana interviewing Steve Brown during Poison's Hollyweird Tour.
(as seen in the home video
"BACKSTAGE BANANA"
)
Well, there you have it, Sludgeaholics. If Trixter is selling out shows in 2008 then the End of Days must be close at hand. Be sure to get all your affairs in order and tell your friends and family that you love them, because all Hell is about to break loose on Earth. For our part, we'd like to thank C.C. Banana for his eyewitness report and Maria Ventura from
Lady Ace Photography
for her excellent pictures. Thanks also to Sludgette Debby for the additional photos and to Lisa at
Dexter's Entertainment Complex
for the accommodation. For more information about the band that will surely bring about the end of the world as we know it, visit their official website or MySpace page below.
Trixter is back... Dio save us all.
Trixter
http://www.TrixterRocks.com
http://www.myspace.com/TrixterRocks
Trixter: The Four Horsemen of the Apocalypse?
Metal Sludge
Sludge It To Me Good